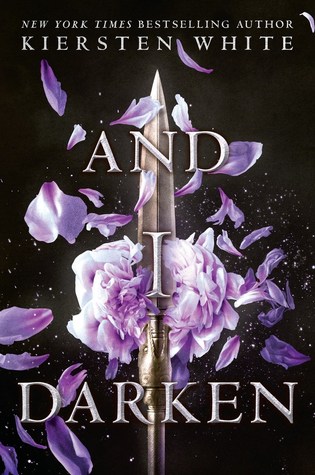 And I Darken by Kiersten White
The Conqueror's Saga #1
Release Date: June 28, 2016
Genre: Young Adult, Historical, Romance
Source: Won paperback from
Rating: 5 Bookworms
Challenges: #2017
HW
, #ShelfLove
Goodreads
Synopsis
No one expects a princess to be brutal. And Lada Dargwlya likes it that way. Ever since she and her gentle younger brother, Radu, were wrenched from the homeland of Wallachia and abandoned by their father to be raised in the Ottoman courts, Lada has known that being ruthless is the key to survival. She and Radu are doomed to act as pawns in a vicious game, an unseen sword hovering over their every move. For the lineage that makes them special also makes them targets.
Lada despises the Ottomans and bides her time, planning her vengeance for the day when she can return to Wallachia and claim her birthright. Radu longs only for a place where he feels safe. And when they meet Mehmed, the defiant and lonely son of the sultan, Radu feels that he's made a true friend--and Lada wonders if she's finally found someone worthy of her passion.
But Mehmed is heir to the very empire that Lada has sworn to fight against--and that Radu now considers home. Together, Lada, Radu, and Mehmed form a toxic triangle that strains the bonds of love and loyalty to the breaking point.
This is my 5th HW read of the year and I've discovered something...I have some really outstanding books on my shelves just waiting to be unearthed! ;)
And I Darken is a fabulously written story - historical fiction - that puts an interesting spin on Vlad the Impaler. And y'all, I'm rather fascinated with Vlad so this new "version"...well, I'm tickled. On top of that, this story is set in the Ottoman Empire and THAT is fascinating as well. And then there's Mehmed - the sultan's young son who befriends Lada and her brother, Radu. Well, I was in Portland last week (as y'all know) and therefore in Powell's (I didn't buy anything!). Sky took me to the Rare Book Room where I discovered a book about Mehmed the Conqueror. I don't know if the character is based on this Mehmed but the dates are right, so...
With And I Darken I'm not only learning some history but I'm also reading some thought-provoking things. Lada is my favorite kind of historical character...unconventional. She strains against the conventions towards women for her time. She's strong, cunning, ruthless, smart, and she DOES NOT want to be held back by a pair of breasts. Oh the things she did, choices she made - all so calculated so her weaknesses wouldn't be known, she wouldn't appear weak, in order to save lives or advance others. She's brilliant and I both love her and feel for her living in the 15th century. She broke my heart more than once.
Radu has always been viewed as weak. He is more sensitive and he was definitely treated poorly by their father and older brother. But being abandoned to the sultan changed him in marked ways. As he grew, he learned to use his particular strengths and talents. And he found a place to belong.
Mehmed - I'm not quite sure what to say about him. He's pivotal to be sure and he's important to both Lada and Radu. He's also smart and cunning, as well as ambitious. I'll withhold judgement though until I see what he does next.
I know book two in this series releases this month but I can't decide whether to read it soon and endure a year-long wait for the next one or whether to wait awhile...decisions, decisions. I can say And I Darken is in the top 5 books I've read this year!