For those who may not know, Berk is my younger daughter. She agreed, if somewhat reluctantly, *wink* to review a few of her summer reads. And since my review of Opposition (last in the series) posts tomorrow, I thought it'd be fun for y'all to see what she thought of Obsidian (first in the series.) I hope y'all enjoy!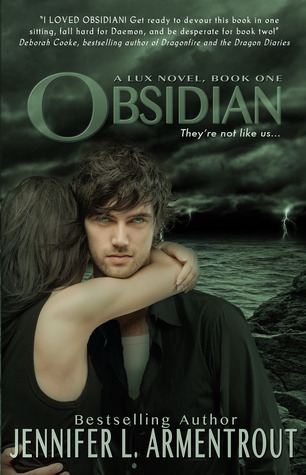 Obsidian by Jennifer L. Armentrout
Lux Series #1
Release Date: May 8, 2012
Genre: YA Paranormal Romance
Source: Borrowed paperback from my Mom
Rating: 4 Bookworms
Goodreads
Synopsis
Starting over sucks.
When we moved to West Virginia right before my senior year, I'd pretty much resigned myself to thick accents, dodgy internet access, and a while lot of boring... until I spotted my hot neighbor, with his looming height and eerie green eyes. Things were looking up.
And then he opened his mouth.
Daemon is infuriating. Arrogant. Stab-worthy. We do not get along. At all. But when a stranger attacks me and Daemon literally freezes time with a wave of his hand, well, something... unexpected happens.
The hot alien living next door marks me.
You heard me. Alien. Turns out Daemon and his sister have a galaxy of enemies wanting to steal their abilities, and Daemon's touch has me lit up like the Vegas Strip. The only way I'm getting out of this alive is by sticking close to Daemon until my alien mojo fades.
If I don't kill him first, that is.
**BERK'S REVIEW**
What I Liked:
The thoroughly developed characters

No love triangle

How "real" the aliens were - how there weren't big reaches in believeability

Date rape awareness in a high school setting

Relatable sass of Katy
What I Liked Less:
The constant lusting after Daemon. It may seem like all teenage girls are constantly pining after guys but that's not true and it got annoying because it seemed to be central to the premise when it shouldn't have been.

There wasn't enough action. The bit there was good, it just felt like it was lacking.
Overall, I really liked the world building and the story line. I'm just not a fan of excessive romance. However, I have started Onyx.