My To-Be Read List is a meme hosted by Michelle @Because Reading.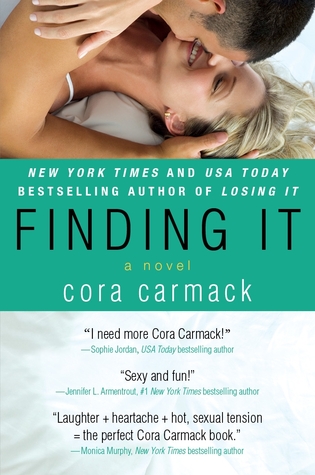 Finding It by Cora Carmack
Losing It #3
Release Date: October 15, 2013
Genre: New Adult, Contemporary Romance
Source: Purchased Paperback at a local signing
Rating: 4.5 Bookworms
Challenges: #2018HW, #TravelingtotheTerminus
Goodreads
Synopsis
Sometimes you have to lost yourself to find where you truly belong...
Most girls would kill to spend months traveling around Europe after college graduation with no responsibility, no parents, and no-limit credit cards. Kelsey Summers is no exception. She's having the time of her life...or that's what she keeps telling herself.
It's a lonely business trying to find out who you are, especially when you're afraid you won't like what you discover. No amount of drinking or dancing can chase away Kelsey's loneliness, but maybe Jackson Hunt can. After a few chance meetings, he convinces her to take a journey of adventure instead of alcohol. With each new city and experience, Kelsey's mind becomes a little clearer and her heart a little less hers. Jackson helps her unravel her own dreams and desires. But the more she learns about herself, the more Kelsey realizes how little she knows about Jackson.
It's been a little while since I read Faking It and a long while since I read Losing It and I know that I adored those stories and characters but here's the thing: Finding It resonated so deeply and I fell so hard for both Kelsey and Jackson that their story is my favorite.
It might be the place I'm in with life - or rather the place(s) where my kids are - and honestly it probably is that reason - but CCarmack nailed so completely what it feels like to wonder at what your purpose is and to stumble about in an attempt to figure it out. That's always been my favorite element of New Adult as a genre and CCarmack conveys it so well. Now that I have children experiencing the same things, getting ready to embark on a similar journey, and/or navigate these same waters, Kelsey and Jackson and their situations just spoke to me.
Kelsey looks like she's having one last hurrah before starting her life post-graduation. She's traveling Europe, partying, and living life. But Kelsey is actually trying to keep memories and emotions at bay by living in the moment and drowning things in alcohol...oh and by spending daddy's money. At first, I had trouble sympathizing with her poor, little rich girl persona. It didn't take long to see that it was all an act and Kelsey is quite an actress. At times it seemed as though she didn't really know herself. Underneath that party girl facade was a damaged young woman who'd been dealing with quite a lot for quite a long time but also a young woman who was capable and passionate and worthy of love.
Jackson started out as a snarky, handsome enigma. I could tell he was damaged as well and that he had a painful story but it was a story he wasn't ready to share. He was a compassionate young man who seemed to see right through Kelsey's mask to the heart of her. Even better, he saw ll the parts of her worthy of his attention, care, and love.
What I enjoyed most was how Jackson took it upon himself to help Kelsey find what she was really looking for by giving her what she thought she was looking for. And in the course of helping Kelsey, he learned a few things himself as well as finding exactly what he was looking for.
Finding It was captivating, powerful, and emotionally charged as well as funny, sweet, and sexy. Thank goodness I have more CCarmack on my shelf!