For this final Jumble Your Genres review of the year, y'all are getting a three 'fer!! The genre for the month was New Adult. I'm a huge Michelle Mankin fan so I'm hoping to tempt you to read her. :) I tried to keep my reviews short since there are 3 but know that I could have gushed and gushed.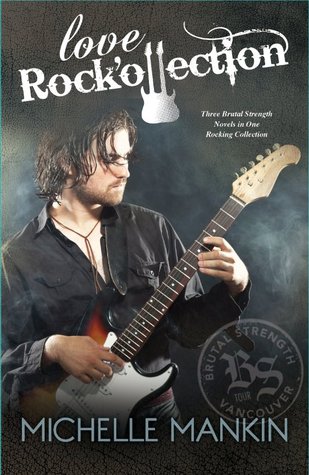 Love Rock'ollection
The Brutal Strength Rock Star Trilogy, Books 1-3
Genre: New Adult, Contemporary Romance
Release Date: November 6, 2014
Source: I received a complimentary copy in exchange for an honest review (*I own each of these books individually*)
Rating: 4.5 Bookworms Overall
Three full length rock star novels in one limited edition set.
Love Evolution is a rock star romance based on Shakespeare's Twelfth Night.
After the death of her twin brother, nineteen year old guitar prodigy Avery Jones finds herself desperate, alone, and out of options. Hope arrives in the form of a job opening with Brutal Strength, one of the biggest rock bands out there. Only problem is temperamental lead singer Marcus Anthony doesn't want a woman in the group. So Avery and her manager Trevor come up with a plan involving a Bieber haircut and men's clothing. No one seems to be onto their little con. But what happens when Avery starts falling for Marcus? Will she be able to continue with the farce or will the whole thing come crashing down around her like a house of cards?
(Revised and additional content, including 2 new chapters and an epilogue)
Love Revolution is a rock star romance inspired by Shakespeare's Much Ado About Nothing.
The wheels of love are always turning at Black Cat Records. Things are just starting to settle down when two Texas sisters start to stir things up at the Vancouver record label. CEO Mary Timmons sets spirited country superstar Sara Daniels on a collision course with cocky rocker Chris Alex. Meanwhile, Brutal Strength's suave drummer, JR, has his head turned by pretty young intern, Samantha Daniels. Do all their highways lead to happiness or will the wheels fly off when the sisters' tragic past comes back to haunt them?
Love Resolution is a rock star romance inspired by Shakespeare's The Tempest.
To forgive or not to forgive...There's a storm brewing at Black Cat Records and lead singer Marcus Anthony and guitarist Avery Jones are at the center of it. Brutal Strength is leaving Vancouver and heading out on a big stadium tour with the reprobate rockers from Tempest as their opening act. Avery is forced to deal with a troubling figure from her past while being pursued by Tempest's tatted bad boy, Bryan "Bullet" Jackson. Meanwhile, Marcus must battle his own internal demons as well as this rival for Avery's affection. Can Avery and Marcus keep their fairy tale happily ever after together when the prevailing winds of the real world are against them?
Love Evolution
My current thoughts...
I almost didn't re-read this one since I'd previously read it 2 years ago. I'm really glad I did. Mankin added in some details and an epilogue - those details added to any already great story.
Love Evolution is inspired by Shakespeare's Twelfth Night. (If you're interested, you can read a quick synopsis here) That was originally part of the draw for me - I'm kind of a fan. :) Part of the premise from Shakespeare involves a girl posing as a boy. In this case, our girl is Avery Jones. She and her brother had been on the cusp of signing a record deal when he died. Her agent, however, gets her the chance to audition for Brutal Strength. The problem is, Marcus Anthony, the band's lead singer, thinks women guitarists are no-talent eye candy. To ensure Avery has the chance she deserves, her agent has her pose as a guy.
From there, we get a front seat to all the action as Avery takes her spot in Brutal Strength while both she and Marcus fight their attraction to one another.
Love Evolution was an entertaining, compelling, and poignant tale.

My previous thoughts: (from my review originally posted 11/12)
This was a sweet little read.
It was fast...it was fun.
I enjoyed the twist on Shakespeare. I thought Michelle Mankin rocked her modern adaptation.
When we first meet Avery, who happens to be a guitar prodigy, she's grieving the loss of her twin brother. She and her brother had been on the verge of a record deal. But now, that dream is gone. When her agent gets her an audition with the rock band, Brutal Strength, it gives her a spark of life. However, she has to pose as a male in order to get into the audition. When she meets Marcus Anthony, they have an immediate connection. The story revolves around the continued growth of the relationship between Avery and Marcus and the impediment her charade imposes...particularly when Marcus begins to question himself over his growing attraction to a male. Lots of giggles when reading the thoughts of both Marcus and Avery regarding their attraction to one another.
The cast of supporting characters were lots of fun as well. The relationship between Marcus and his brother, Dwight, added dimension and entertainment to the story. And I really liked Marcus' parents. And the deviousness of Mary (CEO of Black Cat records) was also entertaining. And the music aspect...I like how Avery was able to channel her emotions into the lyrics. And Love Evolution...what a love letter!

Love Revolution
Love Revolution was a heckava lot more intense due to its suspense element. Don't get me wrong - with a title like Love Revolution, it has plenty of romance. Inspired by Shakespeare's Much Ado About Nothing (summary here), Mankin does a fine job infusing the story with the personality and wit of Shakespeare. The romance revolves around two sisters from Texas - one jaded and one naive - and two rock stars, naturally. I quite enjoyed the snarky banter between Sara and Chris. Their romance bloomed around barbs being thrown. The romance between Sam and JR was more on the sweet side. One of the most enjoyable elements was seeing Sara's, Chris', and JR's views on love change - a revolution in thought. The suspense element, brought about through Sara and Sam's past, really enhanced the story. It created an edge that Love Evolution didn't have.
One thing I must note since I'm from Texas originally, is Mankin's descriptions of Dallas, Graham, and Billy Bob's, as well as how Texans would miss staples like Dr. Pepper and Blue Bell when living in a place where these things aren't readily available. That is something I could totally relate to.
Love Resolution
Oh, the feels, y'all!! Love Resolution was incredible! Inspired by Shakespeare's The Tempest (summary here), I once again impressed with Mankin's modern adaptation. We're back to following Avery and Marcus - watching the ups and downs a rock star relationship would experience. Mankin turns up the angst in this installment where not only does Avery have to deal with the bumps in the raod where she and Marcus are concerned, but also the feelings brought about when her estranged father returns. I really related to Avery on this point, as I also am estranged from my father. I appreciated the lessons Avery learned. She and Marcus learned a lot as well - about each other, life, and love. I liked that Marcus was flawed and that he sought help in dealing with those he could deal with. It made for a stronger foundation for his and Avery's relationship.
I enjoyed my view of the boys from Tempest as well. I know all their stories now - well, almost all of them - but I liked seeing them here...a little cocky and a little vulnerable.
One thing I'd like to note after finishing this installment is how Mankin incorporates what she refers to as "subtext" in all her stories. These subtexts range in scope from the treatment of the homeless and racial prejudices to suicide and drug abuse. I appreciate that she adds subtext to her stories - it enhances the character development as well as adding to social consciousness.