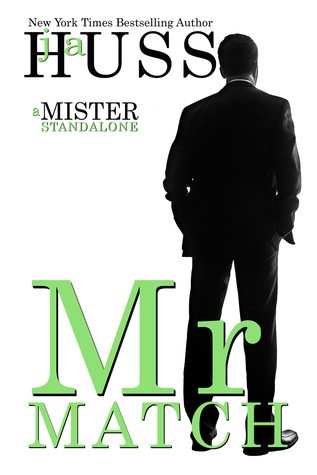 Mr. Match by JA Huss
Misters #5
Release Date: December 7, 2016
Genre: Adult, Romantic Suspense
Source: Purchased on Kindle
Rating: 4.5 Bookworms
Challenges: #2016NewRelease
Goodreads ~ Amazon
Synopsis
Oliver Shrike thinks ahead. He likes to make lists and tick off boxes. He plans, he plots, and he's got everything under control.
Until one day he sees my videos on his dating site. The private erotic videos I make just for him.
When I'm looking at the camera I can practically see his face. Hear the internal arguments. Feel his desire.
Because I'm that kind of woman.
You should delete my videos, Oliver Shrike. It's your job to keep that dating site on the up and up.
But you don't, do you?
You watch them. You get off on them. You crave them.
Every week I make a new one with you in mind. I've got you addicted to my body, my moans, my secrets. I've hooked you now, Mr. Match. You've been in control for way too long and this is where it ends.
Mr. Match is the last book in the Misters series. NOT a standalone book.
Decisions, decisions... Which Mister is my favorite? Well, Oliver Shrike slayed me with his poetic words and artist's soul. His desire to do what he can to protect those he loves. Yeah, this Mister ticked all my boxes. *wink*
Of course, there was a story here - a mystery to solve. And I don't mind saying I had absolutely no idea where Huss was going. None. But oh how I enjoyed the ride. And in hindsight I can see where Huss was leading me in certain instances but mostly she was just messing with my mind. Mr. Match ties together all that's happened with the previous Misters and ties up most of the loose ends. (just one is left dangling and frayed but that's a story for another day - next year) I appreciated how everything fit together, all the puzzle pieces falling into place. And the story was fantastic - all that backstory, history...incredible.
And then there's Oliver and Katya. Was their meeting fate or something more sinister? I'll let y'all decide but I'm a romantic so... Their obvious deep-rooted feelings, what they've suffered and endured and finagled in order to get each other back...that's a love story.
Mr. Match was exciting and enlightening - well, that last one was saved til the end. But it was worth the wait because Huss kept us dangling but kept us entertained. I'm sad to say goodbye to all these characters. Who knows though...we may seem them again sometime.