My To-Be Read List is a meme hosted by Michelle @Because Reading. I think it's a fabulous idea because it gets y'all in the game and it helps me knock off some of the many, many books on my TBR list. You're more than welcome to join in the fun! I've included the basic rules below but you can click on the graphic above to hop over to Michelle's site where you can find all the details.
Here's how it works:
On the first Saturday of each month, I will make a post with three books from my TBR List (these books can be already on your ereader or bookshelf OR books you might want to purchase) and add your link on the linky that will be provided on Michelle's post. Y'ALL will help me choose which book I will read next. The following Saturday, I will announce which book won. Then the last Saturday of the month, I'll post my review.
Fun, right?!?

This month, I'm letting y'all pick my next Blogger Shame Challenge read. :D
Your Choices Are:
Caden's Vw
Hell's Eight #6
Synopsis
His past has haunted him for a lifetime...but one woman could be his salvation.
Gunslinger Caden Miller's compadres are becoming a bit too domesticated for his liking. So he's off to Kansas territory to carve out a living and a space of his own--alone, just the way he likes it.
Maddie O'Hare has been drawn to Caden ever since she escaped to the Hell's Eight compound from the brothel where she was born and raised. And she's not ready to let him go so easily...until she's captured by his new neighbors.
When Caden discovers that Maddie is being held by a rival at a nearby ranch, his plan to rescue her backfires, and he finds himself the groom in what's literally a shotgun wedding. As shocked as Caden is by the bizarre turn of events, Maddie's grateful kiss holds a fiery promise that's far more unexpected. But with old enemies catching up with him, Caden and Maddie will face a danger that tests their passion--and will either bind them together forever or break them apart for good.
Sultry with a Twist
Sultry Springs #1

Synopsis
Welcome to Sultry Springs, Texas: where first loves find second chances...
Nine years after June Augustine hightailed it out of Sultry Springs with her heart in pieces, one thing stands between her and her dream of opening an upscale martini bar: a bogus warrant from her tiny Texas hometown. Now she's stuck in the sticks for a month of community service under the supervision of the devilishly sexy Luke Gallagher, her first love and ex-best friend.
If Texas wasn't already hot enough, working side-by-side with June would make any man melt. Luke wants nothing more than to strip her down and throw her in the lake-the same lake where they were found buck naked and guilty as sin all those years ago. In their heads, they're older and wise. But their hearts tell a different story...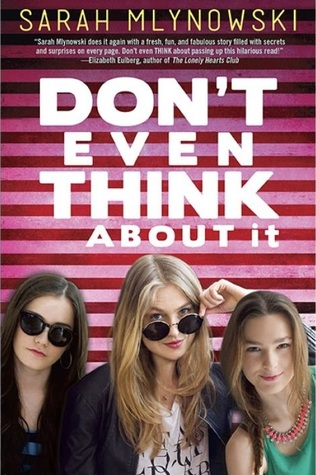 Don't Even Think About It
Don't Even Think About It #1
Synopsis
SECRETS.
SCANDALS.
ESP.
Where weren't always like this. We used to be average New York City high school sophomores. Until our homeroom went for flu shots. We were prepared for some side effects. Maybe a headache. Maybe a sore arm. We definitely didn't expect to get telepathic powers. But suddenly we could hear what everyone was thinking. Our friends. Our parents. Our crushes. Now we all know that Tess is in love with her best friend, Teddy. That Mackenzie cheated on Cooper. That, um, Nurse Carmichael used to be a stripper.
Since we've kept our freakish skill a secret, we can sit next to the class brainiac and ace our tests. We can dump our boyfriends right before they dump us. We know what our friends really think of our jeans, our breath, our new bangs. We always know what's coming.
Some of us will thrive. Some of us will crack. None of us will ever be the same. So stop obsessing about your ex. We're always listening.
Okay, now vote! And thanks! :D
Create your own user feedback survey