My To-Be Read List is a meme hosted by Michelle @Because Reading. I think it's a fabulous idea because it gets y'all in the game and it helps me knock off some of the many, many books on my TBR list. You're more than welcome to join in the fun! I've included the basic rules below but you can click on the graphic above to hop over to Michelle's site where you can find all the details.
Here's how it works:
On the first Saturday of each month, I will make a post with three books from my TBR List (these books can be already on your ereader or bookshelf OR books you might want to purchase) and add your link on the linky that will be provided on Michelle's post. Y'ALL will help me choose which book I will read next. The following Saturday, I will announce which book won. Then the last Saturday of the month, I'll post my review.
Fun, right?!?
I'm continuing my quest, and working at one of my Bookish Resolutions to catch up on series (since I'm behind in 148 series) I'm once again having y'all decide which series I'm going to work at catching up on this month! :D
FYI, this will be my theme all year. And since I'm letting random.org choose from the list of series I'm behind in, you might see books show up more than once. ;)
Your Choices Are:
Avoiding Alpha
Alpha Girl #2
Synopsis
Seventeen-year-old Tessa McCaide has come a long way since her abrupt entrance into the world of werewolves, but she still has just as far to go before she's comfortable with turning full wolf. In the meantime, she's avoiding the topic of shifting to four legs any way she can. Thankfully her mate, Dastien Laurent, is quite the distraction.
When she finds her best friend, Meredith, getting sick in the bathroom, Tessa knows something's majorly wrong. Meredith was cursed years ago, and the dark magic kept her wolf dormant--only now the wolf is awake, and that same spell is killing her.
Tessa has no intention of sitting around while Meredith wastes away. Even if it means playing with magic she doesn't understand, she'll do anything to save Meredith's life. Including bargaining with the local coven of witches and is crazed leader, whose only goal is getting Tessa to join the witchy ranks.
Can Tessa save her friend without losing herself?
Edge of Oblivion
Night Prowler #2

Synopsis
There exists a world beyond our own. It is a world of ancient magic and well-guarded secrets, a world of strict laws and harsh punishments for those who betray them, a world inhabited by the Ikati, a race of gifted people who are so much more than they first appear. Brought together by fate in this world of danger and beauty, two people with dark pasts will meet.
Morgan is beautiful, smart, sexy...and about to die. Convicted of treason against her shape-shifting kin, she is given one last chance at redemption; discover the hidden lair of the enemy intent on destroying every one of her kind, or forfeit her life.
Xander is ruthless, heartless, cold-blooded...and assigned to kill her if she fails in her task. Expecting to feel nothing but contempt for the traitor under his watch, the assassin accompanies Morgan on her search, but as the two race through the heart of Italy while the clock winds down to zero hour, he finds himself drawn into a dangerous web of desire as powerful as it is forbidden. Their passion will test everything they believe in, and endanger the future of the tribe itself.
Sensual, edgy, and action-packed, Edge of Oblivion is a must-read for lovers of dark paranormal romance.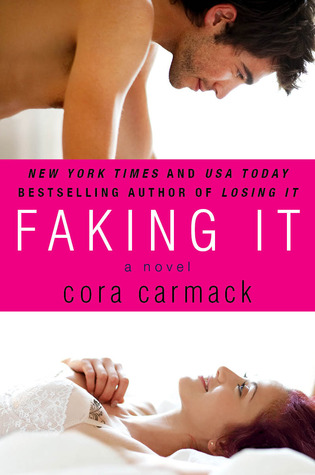 Faking It
Losing It #2
Synopsis
Mackenzie "Max" Miller has a problem. Her parents have arrived in town for a surprise visit, and if they see her dyed hair, tattoos, and piercings, they just might disown her. Even worse, they're expecting to meet a nice, wholesome boyfriend, not a guy named Mace who has a neck tattoo and plays in a band. All her lies are about to come crashing down around her, but then she meets Cade.
Cade moved to Philadelphia to act and to leave his problems behind in Texas. So far though, he's kept the problems and had very little opportunity to take the stage. When Max approaches him in a coffee ship with a crazy request to pretend to be her boyfriend, he agrees to play the part. But when Cade plays the role a little too well, they're forced to keep the ruse going. And the more they fake the relationship, the more real it begins to feel.
Okay, now vote! And thanks! :D
Create your own user feedback survey