I'm thrilled to be a part of the blog tour for Lord of a Thousand Steps by Tara Lain. The Love in Laguna series continues to heat up and get better and better! I have a review and a giveaway for y'all today.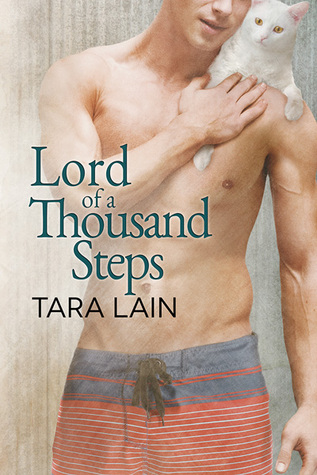 Lord of a Thousand Steps
by
Tara Lain
Love in Laguna #4
Release Date: August 31, 2016
Genre: Adult, M/M Contemporary Romance
Source: I received a complimentary copy, as part of the tour, in exchange for an honest review.
Rating: 5 Bookworms
Challenges: #2016NewRelease
Goodreads ~ Amazon ~ B&N
Synopsis
To architecture student Ian Carney, family means everything. Taken in by his brother, Jim, when his
father threw him out at eighteen for being gay, Ian yearns to create his own family with his boyfriend,
Rico. But Rico's in Mexico caring for a sick father, Ian hasn't had sex in a month and a half, and his
gorgeous boss, Braden Lord, CEO of the architectural firm Ian interns for, is looking better and better.
Braden's life is chaos. Just out of the closet and going through an ugly divorce from his wife of fifteen
years who's trying to take custody of his two children, he desperately resolves not to succumb to a
completely inappropriate attraction to Ian—even though his kids adore both the man and his crazy cat.
When Rico proves to be a snake in the grass and Ian exercises his powers of seduction, what starts as a
"friends with benefits" fling turns into real life real fast. Can Ian give up his romantic dreams for an "old
guy" who didn't come out until he carried a mountain of baggage? It'll only take a thousand steps.
I adored Ian Carney when I met him in Knave of Broken Hearts, book #2 in this series. So I was thrilled beyond measure to get his story and for him to get his HEA. Lain didn't disappoint! I couldn't have asked for a better story for Ian.
Ian has been living with his brother, Jim, since he was 18 and their father kicked him out because he came out. Ian is wise beyond his years but he wants a family and the unconditional love he didn't get from his family. The desire for that enabled me to see his vulnerable side. He's smart and a gifted architecture student. And even though he's been in a relationship for 3 years - one he thought was going to last - he finds himself attracted to his boss, Braden Lord.
Braden Lord - my goodness! He came with so much baggage. He's only recently come out and is currently enduring a nasty divorce. Yes, that's right. He's spent the last 15 years trying to convince himself he wasn't really gay. He has little experience, obviously, in gay relationships. And to complicate things even more, he has 2 children. But does that have to mean complications?
I loved Ian and Braden together! They fit perfectly despite the age difference and baggage on both sides. And I adored Braden's kids. Mireille was adorably precocious, so grown-up in her mannerisms and speech. Jo-Jo was mature but also acted like a boy of 14. I appreciate when an author incorporates kids in a story line in a way that adds depth and Lain delivered BIG. I'd be remiss if I didn't mention Anderson, Ian's cat. He has few lines in the dialog *wink* but played an integral role in the story.
One thing I admire about this series is Lain's inclusion of people who both accept and judge homosexuality. It's realistic and genuine and adds to the story overall. Seeing characters on both sides of the fence and how the affected Ian and Braden enriched their story.
Getting to be present as Ian and Braden figure out how they fit in each other's lives, watching the kids be accepting and seeing them all build a happy life together while weathering some bumps in the road was a heartwarming experience. And like I said, I couldn't have asked for better for Ian. But both he and Braden deserved it!
**Love in Laguna Series**
Knight of Ocean Avenue
Knave of Broken Hearts
Prince of the Playhouse
a Rafflecopter Giveaway
Tara Lain writes the Beautiful Boys of Romance in LGBT erotic romance novels that star her unique,
charismatic heroes. Her first novel was published in January of 2011 and she's now somewhere around
book 23. Her best­selling novels have garnered awards for Best Series, Best Contemporary Romance,
Best Ménage, Best LGBT Romance, Best Gay Characters, and Tara has been named Best Writer of the
Year in the LRC Awards. In her other job, Tara owns an advertising and public relations firm. She often
does workshops on both author promotion and writing craft. She lives with her soul­mate husband and
her soul­mate dog in Laguna Beach, California, a pretty seaside town where she sets a lot of her books.
Passionate about diversity, justice, and new experiences, Tara says on her tombstone it will say "Yes"