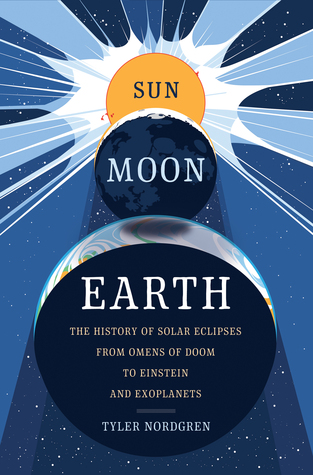 Sun Moon Earth: The History of Solar Eclipses from Omens of Doom to Einstein and Exoplanets by Tyler Nordgren
Release Date: September 13, 2016
Genre: Nonfiction, Science
Source: I picked up an advance copy from the publisher at BEA thinking Jax would enjoy it
Rating: 4 Bookworms
Goodreads
Synopsis
On August 21, 2017, more than ten million Americans will experience an awe-inspiring phenomenon: the first total eclipse of the sun in American in almost forty years. In Sun Moon Earth, astronomer Tyler Nordgren illustrate how this most seemingly unnatural of natural phenomena was transformed from a fearsome omen to a tourist attraction. From the astrologers of ancient China and Babylon to the high priests of the Maya, Sun Moon Earth takes us around the world to show how different cultures interpreted these dramatic events. Greek philosophers discovered eclipses' cause and used them to measure their world and the cosmos beyond. Victorian-era scientists mounted eclipse expeditions during the age of globe-spanning empires. And modern-day physicists continue to use eclipses to confirm Einstein's theory of relativity.
Beautifully illustrated and lyrically written, Sun Moon Earth is the ideal guide for all eclipse watchers and star gazers alike.
***Jax's Review***
Sun Moon Earth is a delightful book about eclipses. Tyler Nordgren writes with a quasi-Bill Bryson style, as each of the nine chapters sufficiently wanders from the subject then brings it back in a conclusion where the stories and facts are proved relevant. He shows an enormous love for eclipses, yearning for the reader to understand the sensation one feels during an eclipse. The book covers subjects from the earliest records of eclipses to the cult following across the globe for a glimpse at the rare event. Most of the book is anecdotes from history, such as Columbus using an eclipse to secure dominance of the natives in the Bahamas. The author, Nordgren, is a professor and has written another book on astronomy, about stargazing in the national parks.