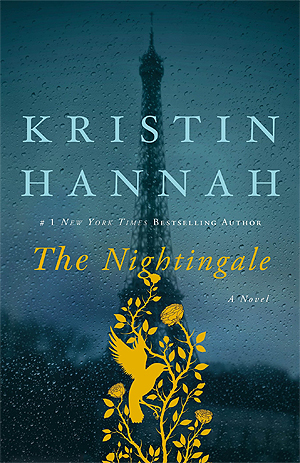 The Nightingale by Kristin Hannah
Release Date: February 3, 2015
Genre: Adult, Historical Fiction
Source: Gift
Rating: 5 Bookworms
Challenges: #ShelfLove
Goodreads ~ Amazon
Synopsis
Despite their differences, sisters Vianne and Isabelle have always been close. Younger, bolder Isabelle lives in Paris while Vianne is content with life in the French countryside with her husband Antoine and their daughter. But when the Second World War strikes, Antoine is sent off to fight and Vianne finds herself isolated so Isabelle is sent by their father to help her.
As the war progresses, the sisters' relationship and strength are tested. With life changing in unbelievably horrific ways, Vianne and Isabelle will find themselves facing frightening situations and responding in ways they never thought possible as bravery and resistance take different forms in each of their actions.
It took me awhile to put some thoughts into words about The Nightingale and even as I'm typing this review, I find myself affected by the story. It's powerful, thought-provoking, impactful...in short, it's a read that will stay with me for a very long time.
The Nightingale tells the story of two women, sisters, and the roles they take on during WWII France. But more than that, it tells the story of the human spirit, and what it can endure under great duress. What a woman will do when she's greatly aggrieved by injustices perpetrated against her people - people in general. What a mother will abide to protect her children.
We all know of the atrocities committed by the Germans during WWII - although I will admit to learning a few history lessons about France during the reading of this book - but here, Hannah sets about showing the reader how the war affected the women left behind. It made me question how I'd be affected, how I'd act and react, what I'd suffer to protect my children. It made me wonder at the human spirit - how it can still soar when it seems humanity is lost. And it made me grateful - grateful to have never experienced such pain, tragedy, loss at the hands of humans. It also made me grateful and hopeful - for our world - to see the human spirit triumph.
"Think about who you are and what sacrifices you can live with and what will break you."
"In love we find out who we want to be; in war we find out who we are. And sometimes, perhaps, we don't want to know what we would do to survive."
"But love has to be stronger than hate, or there is no future for us."
This was my first time reading Hannah...it won't be my last. Her skill was deftly illustrated in this novel which was engrossing as well as touching...haunting...these characters, Vianne and Isabelle, will live on in my heart.