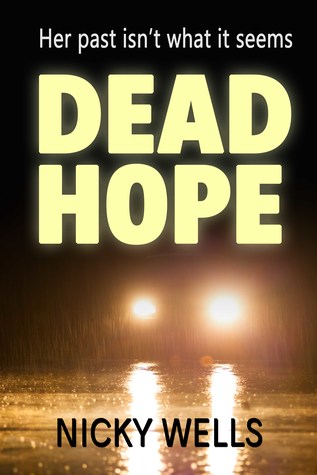 Dead Hope by Nicky Wells
Release Date: February 2, 2017
Genre: Adult, Suspense, Romantic Suspense
Source: I received an ARC from the author. I voluntarily provided a review.
Rating: 4 Bookworms
Challenges: #2017NewRelease, #Goodreads
Goodreads
~ Amazon
Synopsis
DEAD HOPE is the new thriller by Nicky Wells, bringing you a delicious cocktail of crime, suspense, and romance.
Cat Hope doesn't want to go to prison. She needs a job, and she needs it fast; judge's orders.
Kay Mahon, office worker by day and hacker by night, is on the run from a past life that he'd rather not remember.
When their paths cross, they begin to investigate the truth behind the deaths of Cat's parents, the successful rock star couple Jackie and Adam Hope. Little do they know that their quest is putting Cat in grave danger.
I had the privilege of reading Dead Hope early and while I've read Wells before, this was something different. Wells took a new path with Dead Hope - that being the path of a thriller - and she delivered the goods. Dead Hope is compelling with great character development and although you know whodunit throughout, she keeps you turning the pages needing to see how it all shakes out.
Cat Hope is the daughter of a famed rock duo, one who has it all with, the exception of her parents who died tragically, and she's found herself in a bit of trouble. Her punishment, as strange as it is, is to be relegated to a new life - as a "normal" person. That being having no access to her trust fun - working for a living.
Cat starts out as a self-centered, spoiled woman - Wells seems to have a talent for creating heroines that have to win us over - but over the course of the story, she grows emotionally and it was a delight to witness even if learning things about her childhood - the things that caused her to be how she was - were troubling.
Cat meets Kay in her new job and as their friendship blossoms, they come to find they have some things in common in their childhood. This brings about Cat and Kay investigating Cat's parents deaths, opening a whole new can of worms.
The character growth wasn't limited to Cat although she grew the most. Kay, a very smart and talented man, having skills useful to investigating on the sly, was also rather prickly - not allowing anyone in...that is no one until Cat.
Wells did a fine job in creating suspense throughout - what would happen? Would Cat and Kay get caught? Everything flowed together naturally, keeping the pace even, despite knowing who the villain was. There were a few instances where my suspension of disbelief was strained but all-in-all everything worked. There was, of course, a romantic element - Wells didn't completely ditch her roots. And the romance between Cat and Kay was sweet, building naturally from their friendship.
I was rather impressed with Wells' foray into suspense writing. The nods to Bourne and other was a nice touch. Wells laid a nice foundation, used her skills in crafting a good story with characters I became invested in, and succeeded in delivering a thriller worth reading.
Question: You've been a bit quiet this past year or so. What's been happening? Where have
you been?
Nicky: After the release of my last novel, the romantic comedy "Seven Years Bad Sex," I
decided to take a little breather and to allow myself some time to think about where I was
going to go next, writing-wise. I took a whole six months off, and I spent that time with
family and decorating a part of our house. Wouldn't you know it, six months flew by, and I
found myself brimming with ideas for not one but several books, and I got busy writing and
planning and writing again.
Question: Tell us about DEAD HOPE. How did you come up with the idea?
Nicky: DEAD HOPE was born with the working title of "Deep Cover". When the idea came
to me, I was still planning to write a romance featuring rock stars, and the key nugget is: what
would happen if you transplanted a world-famous rock star into an office job like you and me
might hold down? Moreover, what would happen if you removed that rock star from their
natural habitat, the glittering metropolis, and placed them into a sleepy rural town? Romantic
and comedy ideas flowed galore.
Question: So, DEAD HOPE was going to be a romantic comedy?
Nicky: A romantic comedy-slash- suspense, yes. That was the plan.
Question: How did you get from romantic comedy-slash- suspense to thriller? That's quite a
leap.
Nicky: It might look that way, but it was actually a gradual progression. I'm an OCD planner.
I can't write if I haven't got the book planned out in minute detail, so I sat down and started
weaving all my wonderful ideas together. But there was one central question I couldn't
answer: Why. Why would this whole thing happen? What would bring the rock star to the
office job in the middle of nowhere?
Question: And?
Nicky: I did a spider map of all the possible scenarios that could have got the rock star into
his unusual circumstances, and I got a bit carried away. I allowed myself to really think out of
the box, and suddenly one scenario jumped out at me that turned the plot entirely on its head.
Funny how a small idea can prompt a cataclysmic change! My hero turned into a heroine, and
while she's the daughter of a famous rock star couple, she isn't a celebrity in her own right.
But at that point, the romance theme was still dominant.
Question: What happened next?
Nicky: I finished planning and started writing. And as soon as I started writing, the thriller
and crime ideas just took off. This baby wanted to be something completely different from
what I had envisaged, so I had to abandon writing and re-plan. I went deep on the logistics of
my core crime, my mystery, and I learned quite a bit about court and police procedures and
forensics, more so than is evident in the story but lots of stuff that'll come in handy in my
next stories. In this way, DEAD HOPE turned from a romantic suspense into a crime thriller
with a strong romance subplot.
Question: But there is still some romance?
Nicky: There is still some romance. 
Question: What about blood and gore?
Nicky: That, not so much. I don't like blood and gore and while there is some—it is a crime
story, after all—the novel is all about solving the mystery. I guess I'm trying to follow in the
tradition of Agatha Christie and Sue Grafton, not that I could ever hope to aspire to match
their genius.
Question: Go on then, sell it to me. What's DEAD HOPE all about?
Nicky: All right… here goes the elevator pitch!
A unique and delicious cocktail of crime, suspense and romance, "DEAD HOPE" is a
compulsive page turner.
Cat Hope doesn't want to go to prison. Kay Mahon is on the run from a past life that he'd
rather not remember. When their paths cross, they begin to investigate the truth behind the
deaths of Cat's parents, the successful rock star couple Jackie and Adam Hope. Little do they
know that their quest is putting Cat in grave danger...
About Nicky Wells: Love & Thrills
Nicky Wells writes captivating romance and breathtaking thrillers featuring famous (or
infamous!) feisty heroes and extraordinary villains. DEAD HOPE is her eighth book and the first
published novel in her "Wake Up Dead" themed thriller series, with the next two books
scheduled for release through the course of 2017 and 2018. Nicky has previously published
seven works of romantic fiction both with US publishing house, Sapphire Star Publishing, and
independently.
Born in Germany, Nicky moved to the United Kingdom in 1993 and currently lives in Lincoln with
her husband and their two boys. She loves listening to rock music, dancing, and eating lobsters.
When she's not writing, she's hopelessly addicted to reading crime novels by the truck load.
Nicky's books: Sophie's Turn | Sophie's Run | Sophie's Encore | Spirits of Christmas
| Fallen for Rock | Fairy Tale in New York | Seven Years Bad Sex
Join Nicky: Blog | Twitter | Facebook | Amazon | Goodreads | Pinterest | Google+