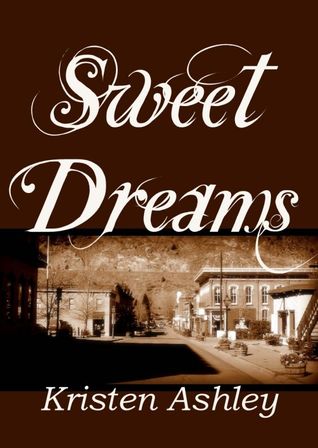 Sweet Dreams by Kristen Ashley
Colorado Mountain #2
Release Date: April 23, 2011
Genre: Adult, Contemporary Romance, Suspense
Source: Purchased on kindle
Rating: 5 Bookworms
Challenges: #ShelfLove
Goodreads
Synopsis
She's ready for the ride of her life...
Lauren Grahame is looking to reinvent herself. After leaving her cheating husband, Lauren moves to Carnal, Colorado, and gets a job as a waitress in a biker bar called Bubba's. It's a nothing job in a nowhere joint...until Tatum Jackson walks in. Lauren has never seen a man with such good looks, muscles, and attitude. But when he insults her, Lauren doesn't want anything to do with him. Too bad for Lauren he's also the bar's part owner and bartender.
When the rough-around-the-edges Tate meets the high-class Lauren, he thinks she won't fit in at Bubba's. Yet there's more to Lauren than meets the eye, and Tate soon sets his mind on claiming her as his own. Before long, the desire burning between them is heating up the cold mountain air. But when violence strikes the town, Tate must reveal a dark secret to Lauren-one that may put an end to their sweet dreams.
I have to confess that I didn't instantly fall for ate. *gasp* I know! While I adore KA's particular brand of alpha, Tate rubbed me the wrong way to begin with. He did, of course, eventually win me over. Which was good because Lauren - I loved Lauren and I would have hated for her to end up with another jerk! LOL
Lauren is a divorcee - her husband cheated on her - for FIVE years!! - with her best friend. She's since been wandering the country in her car - searching for 'home'. She finds it in Carnal, Colorado. In Carnal, she finds *real* friends, a fulfilling job, and Tate - all reasons to show her particular brand of special. Because Lauren - everyone needs a friend like her and should aspire to be a friend like her. She's one of those people who just glows. You know what I'm talking about? Everyone loves her and she loves everyone.
Tate - well, I first thought he was a grade-A jerk. But KA slowly revealed more and more about him and I realized he was a good guy. He cared about people - showed it in unconventional ways. I liked seeing that even at 44 (YES! a seasoned hero), Tate, could grow and I enjoyed what Lauren brought out in him.
The suspense factor in Sweet Dreams was upped quite a bit when violence strikes this small town. Tate, being a bounty hunter and former cop, played a role in the investigation. The crimes were gruesome and the reveal shocking. But the thriller element added to the complexity of the story and I appreciated that.
As with any KA story, a robust secondary cast was present. From hippies to grumpy bartenders to a sweet, older couple of motel owners, I felt close to them all by the end. The Colorado Mountain series is a tad different than KA's Rock Chick or Chaos series in that we don't see the same group of chracters in each installment. There was mention of Nina, from The Gamble, but no sightings. It didn't take away from the story though.
This was my first KA read of 2016 that wasn't a re-read. And while I've been greatly enjoying revisiting everyone, getting to meet a new cast of characters was an incredible experience. I'm anxious to meet the next group and fall in love with a new set of characters. As soon as I'm over my book hangover. ;)