My To-Be Read List is a meme hosted by Michelle @Because Reading.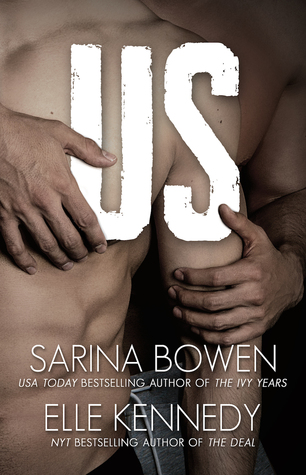 Us by Sarina Bowen & Elle Kennedy
Him #2
Release Date: March 8, 2016
Genre: Adult, M/M Contemporary Romance
Source: Purchased on Kindle
Rating: 4.5 Bookworms
Goodreads
Challenges: #ShelfLove
Synopsis
Can your favorite hockey players finish their first season together undefeated?
Five months in, NHL forward Ryan Wesley is having a record-breaking rookie season. He's living his dream of playing pro hockey and coming home every night to the man he loves--Jamie Canning, his longtime best friend turned boyfriend. There's just one problem: the most important relationship of his life is one he needs to keep hidden, or else face a media storm that will eclipse his success on the ice.
Jamie loves Wes. He really, truly does. But hiding sucks. It's not the life Jamie envisioned for himself, and the strain of keeping their secret is taking its toll. It doesn't help that his new job isn't going as smoothly as he'd hoped, but he knows he can power through it as long as he has Wes. At least apartment 10B is their retreat, where they can always be themselves.
Or can they?
When Wes's nosiest teammate moves in upstairs, the threads of their carefully woven lie begin to unravel. With the outside world determined to take its best shot at them, can Wes and Jamie develop major-league relationship skills on the fly?
Warning: contains sexual situations, a vibrating chair, long-distance sexytimes and proof that hockey players look hot in any shade of green.
Y'all, I can't get enough of Wes and Jamie! Why can't I have more?!?
Here are a few reasons why I love these guys!
Wes and Jamie as a couple. These two guys are so in love and good together. They each bring their own positives and negatives to the relationship and that only further enhances them as characters. Their relationship "feels" real. And I just love them!

The issues - the hurdles Wes and Jamie have to jump, the issues they fave - were also realistic and gave them even more depth. From family strife and personal pride to dealing with illness as well as the media and a bigoted public, they faced so much. And they both grew emotionally - both individually and as a couple.

Family and friends - y'all know I'm fond of a dynamic supporting cast. That the Canning family was so loving and accepting - it warmed my heart. And that Wes' teammates, for the most part, proved accepting (Jamie's boss too)...well, it restored a little of my faith in humanity.
I'm also chomping at the bit to dive into the spinoff series featuring some of these characters.
So I not only enjoyed a most excellent sequel - and final book in the duology - but I also get to cross off a series on my "catch up" list! Of course, I'll be adding another series once I start Good Boy (the spinoff series)! LOL