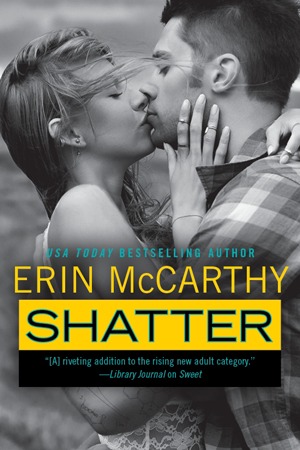 Shatter by Erin McCarthy
True Believers #4
Release Date: September 2, 2014
Genre: New Adult, Contemporary Romance
Source: I received an eARC from the publisher via Netgalley in exchange for an honest review.
Rating: 3.5 Bookworms
Challenges: #BloggerShame, #CleanSweep, #ShelfLove
Goodreads
Synopsis
Kylie Warner prides herself on being optimistic, but after finding her best friend in bed with her boyfriend and flunking chemistry, her upbeat attitude has taken a dive. Even an impromptu hook-up with her sexy new chemistry tutor only brightens her mood slightly. After all, it's not like she'll ever see the tattooed scholar again...
While he's a whiz at complex equations, Jonathon Kadisch has trouble when it comes to figuring out women. So when Kylie tells him that she's pregnant after their night of passion, he's at a complete loss. He's prepared to be a good father--unlike his own deadbeat dad--but he's less prepared to fall for the genuine and alluring blonde bearing his child.
With emotions running high, Kylie wonders if Jonathon's devotion is out of growing love or looming obligation. And when heartbreak threatens to tear them apart, Jonathon will have to fight for the only girl who's ever made him feel whole...
Shatter tells Kylie's story and rounds out the series about these four girlfriends. I enjoyed getting to know Kylie on a deeper level than the superficial one I'd seen in the previous installments but more character development would have been nice. I really liked Jonathon as well but again, more character development would have pushed them both far beyond the stereotypes that defined them.
When we last saw Kylie she was struggling to deal with the betrayal Nathan and Robin had perpetrated against her. She's now living on her own and still figuring out how to cope since she misses living with her friends. Kylie has a lot of self doubt - feeling inadequate intellectually and personally after Nathan's betrayal. She's also having a hard time with her classes - particularly chemistry - which is how she meets Jonathon. He's her tutor. One night between them changes both their lives in an unexpected way.
Jonathon is a grad student in chemistry and is what you'd call an academic. His nickname is Darwin. ;) Jonathon is struggling to please/impress his father who's been less than present in his life. His attraction to Kylie is immediate but she's not what he'd have ever thought of as dating material. However, the time he spends with her proves she's so much more than just a hot girl and maybe exactly what he's looking for.
The premise for Shatter is so good. Two students dealing with the consequences of their actions while also learning about themselves - what they really want in life. It's that I felt like McCarthy could have gone deeper, explored further Kylie's and Jonathon's introspection and revelations as well as expanding on a thread that was introduced but not followed up on very thoroughly.
McCarthy's writing, as usual, was engaging and easy to read. I didn't want to put it down even if I would have liked a deeper story. Shatter was a satisfying conclusion to the series and solidified my appreciation of McCarthy's writing style.