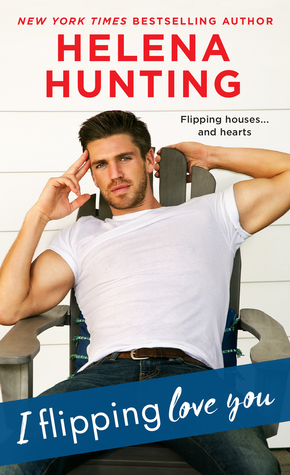 I Flipping Love You by Helena Hunting
Shacking Up #3
Release Date: May 29, 2018
Genre: Adult, Contemporary Romance
Source: I received a complimentary copy from St. Martin's Press via Netgalley. This did not affect my rating and my review is provided voluntarily.
Rating: 4.5 Bookworms
Challenges: #2018NewRelease
Goodreads
Synopsis
SHE'S GOT CURB APPEAL

Rian Sutter grew up with the finer things in life. Spending summers in The Hamptons was a normal occurrence for her until her parents lost everything years ago. Now Rian and her sister are getting their life, and finances, back on track through real estate. Not only do they buy and sell houses to the rich and famous, but they finally have the capital to flip their very own beachfront property. But when she inadvertently catches the attention of a sexy stranger who snaps up every house from under her, all bets are off...
HE'S A FIXER UPPER
Pierce Whitfield doesn't normally demo kitchens, install dry wall, or tear apart a beautiful woman's dreams. He's just a down-on-his-luck lawyer who needed a break from the city and agreed to help his brother work on a few homes in the Hamptons. When he first meets Rian, the attraction is undeniable. But when they start competing for the same pieces of prime real estate, the early sparks turn into full-blown fireworks. Can these passionate rivals turn up the heat on their budding romance - without burning down the house?
I FLIPPING LOVE YOU, set in the Shacking Up world, follows two people, both working in real estate, who find themselves vying for the same properties in the Hamptons, leading to a sometimes-not-so-friendly competition.
I flipping love this book! My only exposure to HHunting was her Clipped Wings series and I've been very curious how she'd do with the lighter side of romance. She impressed me with her deeper side and...she did with the lighter side as well!
Rian - like Ryan but with an "i" - has had a hard row to hoe. She and her sister have built a business and a reputation in real estate from the ruins they were left with at 18. Her sister, the free-spirit of the two, has been her only constant since the fall and Rian has always looked out for her, learning not to allow anyone else close lest they leave like everyone else.
Pierce knows what it's like to live on little and live with a lot. And while he is appreciative of all he now has, he's not living his passion until circumstances place him in the Hamptons working on home renovations with his brother.
Rian and Pierce meeting was pretty comical as was their subsequent encounters. Soon neither could deny their chemistry not the fact that something kept throwing them in each other's paths. Some home sales and renovations later and their on the precipice of something life-altering. But they have to trust that any skeletons escaping their closets are going to be overlooked.
The chemistry, sexual tension, and snarky banter was off-the-charts. It had me swooning and laughing alternately. But I appreciated how HHunting proved Rian and Pierce had more than mere chemistry - they worked both in and out of the bedroom splendidly. I enjoyed the blossoming romance as well as the specifics of the real estate market - open houses, sales, renovations, and flips. I also enjoyed the secondary cast of characters - siblings and neighbors. AND I loved how HHunting used both Rian's and Pierce's pasts to illustrate their character growth. I liked their dynamics between each other, the dynamics between them and their siblings, and I most enjoyed watching as they figured out how to make their dreams come true and then how to incorporate each other into those dreams.
I Flipping Love You was such a delight! I look forward to catching up on the other books in the Shacking Up series as well as the rest of HHunting's backlist as I'm confident I'm going to be delighted with anything she writes.