My To-Be Read List is a meme hosted by Michelle @Because Reading.
So sorry for the delay in my posting of this review. I didn't have time on Friday to get it typed up and I was driving back from Texas all day yesterday. =)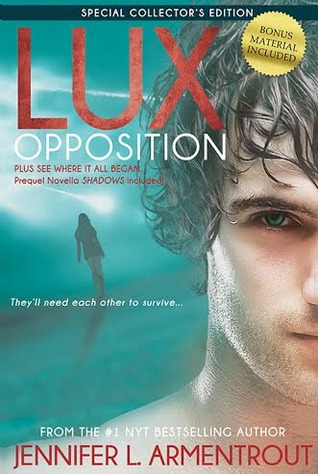 Opposition by Jennifer L. Armentrout
Lux Series #5
Release Date: August 5, 2014
Genre: YA Paranormal Romance
Source: Purchased paperback
Rating: 4.5 Bookworms
Challenges: #COYER, #HW2018, #ShelfLove, #TravelingtotheTerminus
Goodreads
Synopsis
Katy knows the world changed the night the Luxen came.
She can't believe Daemon welcomed his race or stood by as his kind threatened to obliterate every last human and hybrid on Earth. But the lines between good and bad have blurred, and love has become an emotion that could destroy her - could destroy them all.
Daemon will do anything to save those he loves, even if it means betrayal.
They must team with an unlikely enemy if there is any chance of surviving the invasion. But when it quickly becomes impossible to tell friend from foe, and the world is crumbling around them, they may lose everything - even what they cherish most - to ensure the survival of their friends...and mankind.
War has come to Earth. And no matter the outcome, the future will never be the same for those left standing...
Even though it took me an exorbitant amount of time to finish Opposition (to be fair, I wasn't dedicated-ly reading it all that time), Opposition was honestly the perfect ending to the Lux series. Here are the highlights:
Plot
Not only was I impressed with the plot threads central to this final installment but also the over-arching plot. They were all well done and all tied up nicely. I know it's been awhile in between Origin and Opposition - and a really long while between all the others - but I admit that JLA surprised me with some things. There were others that tied up a little bit too neatly but I still felt they worked well with the story overall. Also, I liked the parallels JLA drew between the prejudice and judgement going on between the Lux, The Arum, and humans and the way those same things we humans perpetrate against each other. So much could be resolved or even avoided if we only treated EVERYONE with respect.
Katy & Daemon
These two have been through so much and go through even more in Opposition. The growth and maturity they both exhibit, the resilience they display, and the strength of the bond only getting stronger in the face of adversity, prove them to be strong individuals and an even stronger couple.
Romance
Well, with Katy & Daemon it goes without saying. Their romance - their love - is something to behold. But I also enjoyed seeing romance blossom or continue to blossom between secondary characters as well.
Secondary Characters
JLA made sure I was equally as invested in the secondary characters as I was in Katy and Daemon throughout the series. Dawson & Beth, Dee, Archer, Luc, Hunter...yeah, JLA created a dynamic cast that gave the story depth and kept me that much more engaged.
In the end, there were things that shocked me, things that made me gasp, things that made me swoon, things that broke my heart, and things that restored my faith in humanity and I couldn't imagine a more fitting ending to this series.