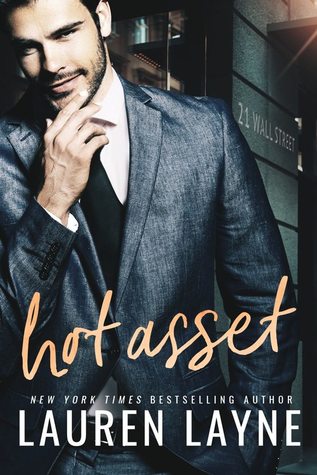 Hot Asset by Lauren Layne
21 Wall Street #1
Release Date: May 22, 2018
Genre: Adult, Contemporary Romance
Source: I received an eARC from Montlake Romance via Netgalley. This did not affect my rating and my review is provided voluntarily.
Rating: 4 Bookworms
Challenges: #2018NewRelease
Goodreads
Synopsis
Ian Bradley is the definition of a Wall Street hotshot: seven-figure salary, designer suits, and a corner office. His drive off the floor is just as potent. Every woman who knows him has felt the rush. But now he's met his match in Lara McKenzie - a woman with the power to bring Ian to his knees.
An ambitious, whip-smart daughter of FBI agents, Lara is a rising star in fighting white-collar crime. Her latest case - the investigation of Ian Bradley for insider trading - could make her career. She knows a scoundrel when she sees one. Ian fits the bill: a cocky, ridiculously handsome bad boy with a slick swagger.
She'll do anything to prove he's guilty. He'll do anything to prove he's not. But it's only a matter of time before their fierce battle of wits gets oh so hot and personal. Now, taking down Ian has become more than business for Lara. It's become a pleasure - and there's more at risk than she ever dreamed.

I'd never read Lauren Layne before. *hangs head* I know, I know. But I honestly think I picked a great story to serve as my introduction to her writing. Hot Asset was funny, romantic, suspenseful, and HOT! I absolutely enjoyed every minute.
Ian Bradley, a man who has climbed from essentially the streets to become one of Wall Street's elite, finds himself in hot water. Not only is he under investigation by the SEC but he's also insanely attracted to the investigator. And they may have gotten off to a rough start. ;)
Lara McKenzie, an SEC investigator with her sights set on the FBI, prides herself on being thorough and following protocol to the "T". In her investigation of Ian, she finds herself in uncharted territory. Not only is she attracted to Ian but she's also hoping he's not guilty while also wanting him to be because he's just the sort of high profile case in which a win would guarantee her the FBI's notice.
The character development and growth of Ian and Lara was impressive and y'all know how I like that. Both Ian and Lara slowly come to realize what was really important to them and I appreciated how LLayne handled the delicate navigation of the laws where Ian and Lara were concerned. Their histories and backgrounds, also slowing revealed, helped develop their characters, explaining the things that defined them. I haven't read any (that I recall) books set on Wall Street like this and I liked the relevancy of the topic. And I most admired how LLayne developed the romance. The attraction between Ian and Lara was abvious and I quite enjoyed the snarky banter. But as things advance between them, even with the chemistry being electric, it all felt organic and realistic.
LLayne also created a wonderful secondary cast, which is brilliant seeing as this is the first in this series and I'm now extremely eager to get Ian's friends' stories. Besides serving to hook me into wanting to read the next in the series, Matt, Sabrina, Kennedy, and Kate also served to give depth not only to Ian and Lara but also to the story overall. The interactions between them all further conveyed the type of people Ian and Lara are.
Hot Asset was an exciting read with an inherently readable story, compelling characters, humor, a little suspense, and a completely satisfying romance. LLayne is one of my favorite new-to-me authors of 2018!