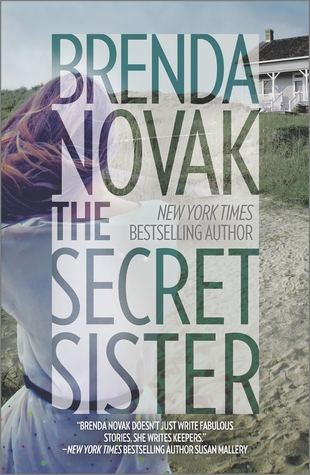 The Secret Sister by Brenda Novak
Fairham Island #1
Release Date: July 28, 2015
Genre: Adult, Contemporary Romance, Mystery
Source: I received a complimentary copy from the author in exchange for an honest review
Rating: 4.5 Bookworms
Goodreads
Synopsis
Did she once have a sister? Has her mother lied all these years? Why?
After a painful divorce, Maisey Lazarow returns to Fairham, the small island off the North Carolina coast where she grew up. She goes there to heal - and help her brother, Keith, a deeply troubled man who's asked her to come home. But she refuses to stay in the family house. The last person she wants to see if the wealthy, controlling mother she escaped years ago.
Instead, she finds herself living next door to someone else she'd prefer to avoid - Rafe Romero, the wild, reckless boy to whom she lost her virginity at sixteen. He's back on the island, and to her surprise, he's raising a young daughter alone. Maisey's still attracted to him, but her heart's too broken to risk...
Then something disturbing happens. She discovers a box of photographs that evoke distant memories of a little girl, a child Keith remembers, too. Maisey believes the girl must've been their sister, but their mother claims there was no sister.
Maisey's convinced that child existed. So where is she now?
Can you imagine starting to have vague memories of someone - possibly a sibling - but someone you don't really recall? Someone no one has ever mentioned? And having those memories corroborated by the sibling you did grow up with? This was just one of the many things Maisey Lazarow faced up her return to Fairham.
Maisey has returned home after a 10 year absence, in order to support her brother as well as heal her own wounds following her divorce. In coming home, she's putting herself in the firing line of her mother, who has never been happy or supportive of how Maisey's chosen to live her life. Being home also puts her in the path of Rafe Romero, a man she knew when she was a teen and would rather not see at this point in time. Being home pits Maisey against her mother once again, leaving her to buck against her mother's strict demands, expectations, and rules.
There's so much going on in The Secret Sister, with both Maisey and Keith trying to carve out new lives for themselves and hold their won against their formidable mother. Then there's the mystery sibling - did she or did she not exist? And if she did exist, what happened to her? And finally, there is the romance between Maisey and Rafe. I think Novak brilliantly balanced all the elements of the story. I enjoyed watching as Maisey made decisions on living her life even when they went against what her mother wishes. When we first meet Maisey, she's rather broken. I enjoyed seeing her blossom, become so vibrant and full of life.
It was difficult to watch Keith struggle with his issues and act so horribly at times. I was happy when he seemed to get his life on track.
Maisey and Keith's mother, Josephine, was a piece of work. Coming from a wealthy family, she was so focused on appearances, reputations, etc., and wasn't a nurturing type - at all. The events that transpired over the course of the story had definitely effects on all the characters - good effects.
My favorite part though was seeing Maisey and Rafe connect. Although Maisey is divorced and suffered terribly during her marriage, seeing her light up and regain her confidence as she spent time with Rafe and his daughter, Laney, left me feeling warm and fuzzy. :) Rafe is such a kind and gentle man. He's settled down since his wild youth and witnessing how he is with his daughter was heartwarming.
I did feel like a few resolutions were too easily gained. But overall, The Secret Sister was exceptional.