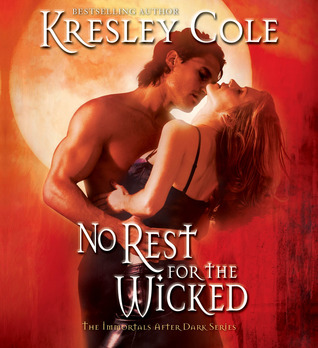 No Rest for the Wicked by Kresley Cole
Immortals After Dark #3
Narrated by: Robert Petkoff
Release Date: March 20, 2012
Genre: Adult, Paranormal Romance
Source: Audible
Rating: 4.5 Bookworms
Challenges: #ShelfLove 2015
Goodreads
Synopsis
Centuries ago, Sebastian Wroth was turned into a vampire - a nightmare in his mind - against his will. Burdened with hatred and alone for ages, he sees little reason to live - until an exquisite, fey creature comes to kill him, inadvertently saving him instead.
When Kaderin the Cold Hearted lost her two beloved sisters to a vampire attack long ago, a benevolent forced deadened her sorrow - accidentally extinguishing all of her emotions. Yet whenever she encounters Sebastian, her feelings - particularly lust - emerge multiplied. For the first time, she's unable to complete a kill.
The prize of a month-long contest is powerful enough to change history, and Kaderin will do anything to win it for her sisters. Wanting only to win her, forever, Sebastian competes as well, taking every opportunity - as they travel to ancient tombs and through catacombs, seeking relics around the world - to use her new feelings to seduce her. But when forced to choose between the vampire she's falling for and reuniting her family, how can Kaderin live without either?
No Rest for the Wicked is my favorite in the IAD series so far. The action and suspense was gut-wrenching, and the interactions between Kaderin and Sebastian were by turns smoldering and humorous. This series keeps getting better.
Kaderin and Sebastian only meet because she heard of a vampire haunting a castle. Since Kaderin is Valkyrie and the Valkyerie have made it a mission to rid the world of vampires, she doesn't mind gong out of her way to dust one. Too bad the one she'd thought to dust is her mate.
Sebastian has lived secluded for centuries so knows nothing of the Lore or the modern world. Kaderin pulls him into the present quickly. Lucky for him, he's a quick study.
That Ms. Cole had Kaderin and Sebastian competing in a Lore contest, The High, was brilliant. Here Sebastian, and the reader, meet other species in the Lore. We also got a glimpse at the lengths some within the Lore would go to in order to win the prize - Kaderin included. The competition added much tension with the danger the contest tasks represented as well as the danger the other contestants posed. And then, of course, there was Sebastian fighting to prove himself worthy of his Bride while she did everything possible to thwart him.
The other Valkyrie once again provided a lot of comic relief, Regin in particular. I enjoyed getting Kaderin's and Sebastian's history as well as watching them fall for one another despite the draw of being mates. I think that, along with the intense action of The High, are what made this my favorite of the series so far.
Robert Petkoff is amazing. All his accents are spot on. I knew he could rock a Scottish brogue but he nails a Russian accent as well. His pacing and the emotion he conveys had me covered in goosebumps, gasping aloud, crying, and laughing. He's amazing.
I believe the next story is Bowen's and I'm eager to hear it. I know I'm really late to the IAD party but I'm so happy I finally arrived! :D