My To-Be Read List is a meme hosted by Michelle @Because Reading. I think it's a fabulous idea because it gets y'all in the game and it helps me knock off some of the many, many books on my TBR list. You're more than welcome to join in the fun! I've included the basic rules below but you can click on the graphic above to hop over to Michelle's site where you can find all the details.
Here's how it works:
On the first Saturday of each month, I will make a post with three books from my TBR List (these books can be already on your ereader or bookshelf OR books you might want to purchase) and add your link on the linky that will be provided on Michelle's post. Y'ALL will help me choose which book I will read next. The following Saturday, I will announce which book won. Then the last Saturday of the month, I'll post my review.
Fun, right?!?
I'm sorry my review is late, y'all. April was a busy month and it slowed down my reading. Actually, I ended up listening to Frost Burned because I wasn't going to have time to get it read. So note that my review is of the audio version. I finished it this morning around 1:00 a.m. as I waited for my girls to get home from prom. Mercy had no problem keeping me awake!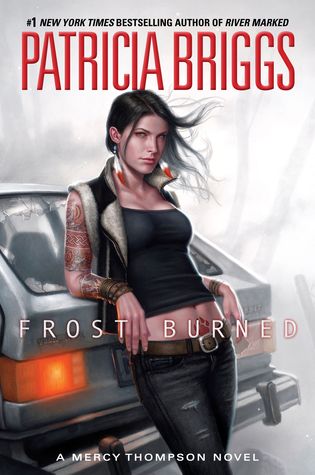 Frost Burned by Patricia Briggs
Mercy Thompson #7
Narrated by: Lorelei King
Release Date: March 5, 2013 by Penguin Audio
Genre: Adult, Urban Fantasy
Source: Purchased Hardcover (B&N) and Audio (Audible)
Rating: 4.5 Bookworms
Challenges: #ShelfLove
Goodreads
Synopsis
Mercy Thompson's life has undergone a seismic change. Becoming the mate of Adam Hauptman - the charismatic Alpha of the local werewolf pack - has made her a stepmother to his daughter Jesse, a relationship that brings moments of blissful normalcy to Mercy's life. But on the edges of humanity, a minor mishap on an ordinary day can turn into so much more. After an accident in bumper-to-bumper traffic, Mercy and Jesse can't reach Adam - or anyone else in the pack for that matter. They've all been abducted. Through their mating bond, all Mercy knows is that Adam is angry and in pain. Outclasses and on her own, Mercy may be forced to seek assistance from the most unlikely of allies: the vampire seethe.
It's been too long since I read Mercy. There were a few things I'd forgotten - Samuel's mate? For the most part though, it felt comfortable and familiar, and I slipped right back into Mercy's world. And I was reminded why I've enjoyed spending time here.
Mercy - she and her coyote are strong no matter what they're having to face. Mercy is brave and smart and cunning. She's always able to figure things out - find her way out of a situation. She's also loyal - to her pack, to her friends, to humanity - and noble - she's always going to do the right thing.
Action/Mystery - Briggs did a fabulous job with pacing. The action is always nail-biting and perfectly timed. It didn't matter if it was a fight scene or a scene where Mercy's doing something to care for Adam and the pack, I was holding my breath in anxious anticipation of the outcome. I also liked that in Frost Burned once I thought the mystery had been solved, Briggs threw a curve ball to let me know things hadn't been resolved at all.
Characters - I adore that in spite of this being Mercy's story, we always spend time with the many colorful characters that inhabit her world. Getting to spend time with Zee and Tad, Gabriel and the Sandoval family, Stephan, Warren and Kyle...well, you get the picture. They're a part of Mercy's life and integral to her story. I also appreciated Asil's appearance in Frost Burned. And I was so happy to have already made his acquaintance in the Alpha & Omega series.
I think the only thing I didn't like about
Frost Burned
was Adam's absence. Well, he wasn't absent but his presence was reduced, what with his kidnapping and dealing with the fallout from that. But I'd been warned, so I knew that was coming and it made it less painful. ;)
This was my first listen with Lorelei King. It took me a few chapters to warm up to her but then she showed me her range and her ability to keep all the voices distinct so that by the end, she was Mercy. I wouldn't hesitate to listen further into this series or listen to anything else from her.
I'm going to be caught up with Mercy and Adam by the end of 2016!