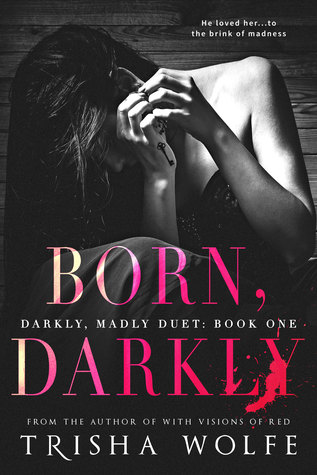 Born, Darkly by Trisha Wolfe
Darkly, Madly Duet #1
Release Date: September 19, 2017
Genre: Adult, Psychological Suspense, Dark Romantic Suspense
Source: I received an eARC from the author. I voluntarily provided a review.
Rating: 4.5 Bookworms
Challenges: #2017NewRelease
Goodreads ~ Amazon
Synopsis
He challenged her sanity.
She shattered his reality.
They dared each other...to the brink of madness.
A dark and twisted maze awaits criminal psychologist London Noble when she falls for her patient, convicted serial killer, Grayson Pierce Sullivan. As she unravels the traps, her sanity tested with each game, she's forced to acknowledge the true evil in the world around her.
Oh, Ms. Wolfe! I've loved everything I've read from TWolfe so far and it's all had at least a little dark...but may I say how utterly thrilled I am that she's gone completely to the dark side? *shudders*
Okay, I have to say this wasn't really a shock, even though it was kinda a shock, that Wolfe went psycho...er, psychological thriller full on with Born, Darkly. She took most of the elements I've loved most from With Visions of Red and amp'd them full throttle. If y'all enjoy getting into the mind of a killer...well, one-click this baby RIGHT NOW. (Go ahead, I'll wait.)
In Born, Darkly we get to examine the mind of a killer, the mind of a doctor who enjoys digging around in killers' minds, doctor/patient relationships, and, well, the human condition. Omigosh, y'all! This is dark and lovely...well, mostly. I floved it!
In London, we have this renowned psychologist who's attempting to disengage the part of her practice that deals with criminals. But she agrees to take on one last challenge. She's brilliant really. She knows how to delve into a criminal mind - prides herself on it really - but she may have met her match in Grayson.
Grayson is referred to as The Angel of Maine. While he is a convicted killer, his victims are *not* good people.
London is to help him with a new trial in a different state.
Grayson
's genius level intelligent and right off the bat he had me scratching my head over who had control in his sessions with London. He likes puzzles and he sees the ultimate one in London.
I can't explain what a mind f*ck this story is...in the very best of ways. It really is more of a psychological suspense story than a romance. *gasp* I know! I was hanging by a thread through most of it and it's gonna be a challenge waiting for the conclusion. However, I'm absolutely certain Wolfe will make it worth the wait.