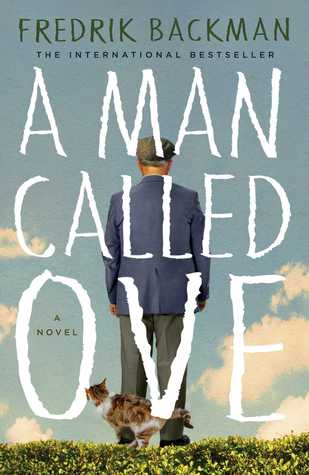 A Man Called Ove by Fredrik Backman
Release Date: July 15, 2014
Genre: Adult, Literary Fiction
Source: Purchased paperback
Rating: 5 Bookworms
Challenges: #ShelfLove
Goodreads
Synopsis
A grumpy yet loveable man finds his solitary world turned on its head when a boisterous young family moves in next door.
Meet Ove. He's a curmudgeon, the kind of man who points at people he dislikes as if they were burglars caught outside his bedroom window. He has staunch principles, strict routines, and a short fuse. People call him the bitter neighbor from hell, but must Ove be bitter just because he doesn't walk around with a smile plastered to his face all the time?
Behind the cranky exterior there is a story and a sadness. So when one November morning a chatty young couple with two chatty young daughters move in next door and accidentally flatten Ove's mailbox, it is the lead-in to a comical and heartwarming tale of unkempt cats, unexpected friendship, and the ancient art of backing up a U-Haul. All of which will change one cranky old man and a local residents' association to their very foundations.
James and I recently discussed whether movies like Grumpy Old Men and The Bucket List get funnier to us with age. We didn't come to a consensus but we do find grumpy old men funny. So I couldn't wait to dive into A Man Called Ove with its description of a man so curmudgeonly that most people avoid him. And while it certainly did have its moments of laugh out loud hilarity, Ove brought so much more to the table.
We first meet Ove at an Apple store where he's trying to buy a computer...a process that is much more difficult for a 59 year old man than you'd think it would be but he just doesn't seem to speak the language. From there we get well acquainted with Ove - his childhood tragedies and triumphs, his systems and beliefs, his love of Saab, and, eventually, of a woman named Sonja.
I'm not gonna lie...I love Ove...HARD. They don't make men like him anymore and although I'm not sure I'd want to live with him, that's still a crying shame. Ove made me think on things - what's important in this life, how I approach life, how I perceive death, what it means to love...and what the type of car you drive says about you.
A Man Called Ove is gripping, poignant, full of humor and sadness. The characters are all engaging and the story is masterfully told even if the prose is simple. Ove is a man I felt I knew at times, and identified with at others. I alternately found myself laughing and sobbing throughout. But Ove is not a character I'll forget anytime soon nor will I forget his lessons on life.
I'd also like to point out that this book was originally written in Swedish. That it's so moving says a lot for its translator.