Welcome to my stop on the blog tour for Rachael Wade's The Replacement and its companion novella, The Prisoner. My stop includes reviews of both novels (my review of The Replacement was first published earlier this year) and a giveaway.
To check out all the reviews along the tour, click here.

The Replacement
Publication date: January 27th 2014
Genres: Contemporary, New Adult
Source: I received an eARC in exchange for an honest review
*Contains sexually explicit content and mature subject matter, including language and elements of abuse.*

A gritty New Adult drama about a young woman's self-destructive quest to find purpose, self-worth, and love in a broken world.

My name is Elise Duchamp. I'm twenty-three years old and I'm known as the town whore.

No, not the kind who exchanges sexual favors for money. The other kind. The kind who gives it all away for free, whenever and however she likes. I am that girl. The one everyone whispers about and the one none of the girls seem to like, because all of their boyfriends either want to sleep with me or already have. Promiscuity is my thing—the kind that slowly, violently turns my insides black, but gives me something I need.

All things considered, I'm not completely reckless. I'm safe, and contrary to popular opinion, I do have a heart. I live in a world of careless choices, and with those choices come careless people. I cannot judge them, because I am one of them. I too bow down to the altar of the self-serving. I am not a good friend. I am not and never could be anyone's girlfriend. I'm convinced any goodness in me shriveled up and died long ago.

But I am a replacement. That is something I know how to be, and this is a story of the lengths I'd go to in order to keep it that way.



Rachael Wade is an author I will absolutely be reading again. She crafted a enthralling story with an MC that has many flaws but whom I couldn't help but root for.
Elise Duchamp is not what you think of when you think of a likable heroine. She is one of those women. A woman that uses her beauty and sex appeal to her advantage. Elise takes from others - she sleeps with unavailable men. While I certainly don't condone her choices, I nonetheless found myself identifying with her and the reasons behind those choices. Elise is insecure. She believes her trysts are all she deserves, but she's searching...searching for something. Maybe she's searching for herself.
Ryder Jacobson is a man who knows himself. He knows what he wants out of life. He's philosophical, he's a bibliophile *swoon*, and he has a bit of wanderlust. When he meets Elise, he knows he wants her. He's not all Alpha though. He knows Elise's past, knows she's broken. And he's patient, kind, and gentle in his pursuit of her.
Elise and Ryder's relationship, as it unfolds, was at times frustrating and at times heartwarming. Elise's attempts to sabotage what they're building made me want to shake her. Ryder's patience with her was endearing. I adore him for his part in helping Elise grow.
I think The Replacement is a sort of soul searching journey for Elise. And as I said, she's not a character you want to like, but I admired her spunk. She owned her choices. And I cheered once she began realizing she deserved more. Being witness to her finding herself - be her somebody - was satisfying, to say the least.
The Replacement was, at times, gut-wrenching as we watched Elise making mistakes. But mistakes area a necessary part of growing up and, luckily, Elise learned from hers. Elise's story was not always pretty. She was a bit broken. With some help from Ryder, she realized she wasn't un-fixable, that she did have goodness, and that she deserved love.
I was emotionally wrung out when I finished The Replacement. As I said, I'll be reading Ms. Wade again. An author that can evoke such feeling AND create a connection with a character with a shaky moral compass has quite a talent!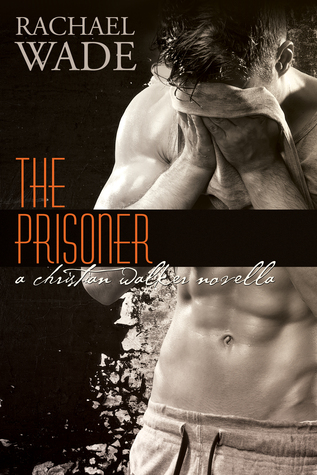 The Prisoner
The Replacement #1.5
Release Date:
Genre: Contemporary, New Adult
Source: I received an eARC in exchange for an honest review
Rating: 4.5 Bookworms
Synopsis
***The Prisoner is a novella (approx, 25,000 words) intended to be read AFTER The Replacement. Contains explicit material and language.
My name is Christian Walker, and Elise Duchamp is my drug of choice.
No matter how hard I try to break the habit, it's a lost cause. Okay, maybe I haven't really tried to quit this particular habit. All I can think about is owning her. Making her mine. Can you really blame me? With that sinful body, luscious mouth, and wicked tongue, she's every man's dream, and she knows it.
No one is immune to her charm, not even me, a man who has everything - a beautiful wife, an office with a view, and more money than most people can spend in one lifetime. Only I know how to make her toes curl. Only I know her body better than the other men she screws in her free time. None of them can compare to me.
But the joke is one me. I'm the prisoner.
The one who will never compare to him. The one man who makes me see red. His name is stored in her cell phone. It's the first one she calls out to, the first one she cries for when all hell breaks loose. Ryder Jacobson.
The name makes me cringe.
She loves him, and I love her. In my own way, I always will. But the bad guy doesn't always belong with the bad girl. Sometimes the bad girl needs a good man to believe in her, to give her that final push toward ultimate transformation. I wish I was that good man. That I could be her happily ever after. I guess that's the things about prisoners, though. They're left alone with their torment, and in the end, they have no one to blame but themselves.
Oh my goodness! Getting this intimate look at Elise and Christian's relationship from Christian's POV was absolutely fantastic! I don't know if we'll see more of Christian further down the line, so I can't say if it really added much to the series, but for me, I was delighted in getting this part of Christian.
The Prisoner shows us how Christian's obsession with Elise begins. There's something he really needed and Elise satisfied that for him. We were privy to Elise's side in The Replacement but here we see that Christian wasn't just a philandering schmuck. Maybe he wasn't going about things in a way I agreed with, but his intentions were good and feelings true. He'd have done anything for Elise, if she'd have let him. And in this way, he was a prisoner - but the prison was of his own making.
Another thing I was glad to be witness to was the reasoning behind his decision and actions towards Elise in the end. It was then I knew he truly loved her.
The Prisoner was a quick, steamy, and extremely satisfying read.
a Rafflecopter giveaway
Rachael Wade is the Amazon bestselling author of The Preservation Series, The Resistance Trilogy, and the upcoming sci-fi series, The Keepers Trilogy. When she's not writing, she's busy learning French, watching too many movies, and learning how to protect animals and the environment. Visit her at
www.RachaelWade.com
and
www.LightsOnOutreach.com
, or come chat with her on Twitter via @RachaelWade