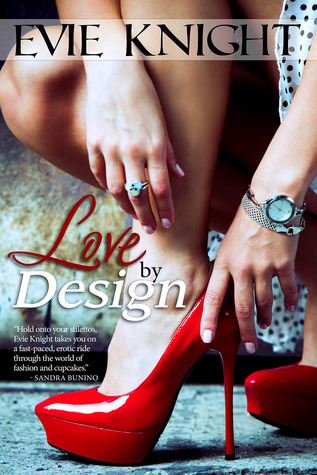 Love by Design
Release Date: July 16, 2014
Genre: Adult, Contemporary Romance
Source: I received a complimentary copy in exchange for an honest review
Rating: 4 Bookworms
Synopsis
Rules are meant to be broken...only, he chooses which ones to break.
Renowned, self-taught baker Tristan James has everything going for him. Great friends. Women. Business success. His ultimate goal is to host his own TV show. All is perfect...until Mandy walks into his life. Tristan fears she'll make him unearth the secrets he keeps.
She plays by the rules.
Amanda Roberts dreams of becoming a famous shoe designer, but her insecurities stand between her and her dream. She's ready to give up when Tristan dares her to pursue her goal. Falling prey to his charms isn't something she counts on, yet it's unavoidable.
As their dreams finally become a reality, they must choose between love or the opportunity of a lifetime.
Love by Design was a sweet, feel-good romance. It was the perfect read for a lazy afternoon. :)
Mandy is that kind of heroine you just love to root for. She's shy, lacks self-confidence, but she's extremely talented. She dreams of being a fashion shoe designer but for now spends her days as a Personal Assistant to a wealthy with and her weekends sketching beautiful shoes while hanging out at a cupcake shop...where she never indulges in the sweets.
Tristan is a self-made success. He rose out of a terrible childhood to create his cupcake kingdom. He doesn't see himself as the type of man to ever fall in love or get married since he never had that behavior modeled for him. Designing perfect cupcakes is his passion. Tristan is taken with Mandy when he first lays eyes on her. She's very attractive but beyond that, she never eats his cupcakes. He makes it his mission to break through to her with his charm and some red velvet cake.
I adore this trope - self-conscious girl who'd never dream of attracting a hunky guy - hunky guy who'd never dream of falling period. Yes, it's formulaic, but it was delightful. It was such a pleasure watching as Mandy and Tristan navigated uncharted waters with their relationship as well as seeing their careers skyrocket. The road isn't smooth, naturally. But the genuine feel of the emotions was comforting. I could feel their feeling for one another were deep. They were both afraid to commit yet couldn't deny what they had in the other.
I quite enjoyed Love by Design. Yes, maybe it was a tad predictable. It was also light, steamy, and it left me feeling good.