My To-Be Read List is a meme hosted by Michelle @Because Reading. I think it's a fabulous idea because it gets y'all in the game and it helps me knock off some of the many, many books on my TBR list. You're more than welcome to join in the fun! I've included the basic rules below but you can click on the graphic above to hop over to Michelle's site where you can find all the details.
Here's how it works:
On the first Saturday of each month, I will make a post with three books from my TBR List (these books can be already on your ereader or bookshelf OR books you might want to purchase) and add your link on the linky that will be provided on Michelle's post. Y'ALL will help me choose which book I will read next. The following Saturday, I will announce which book won. Then the last Saturday of the month, I'll post my review.
Fun, right?!?
It's been awhile. I know. But I decided to jump back into this meme. And since I'm doing OctobeRec Fest, I'm bending the rules (just a tiny bi) and asking y'all to help me out. There are a few authors that come highly recommended and I have several books from them. So I'm doing something a little different - I'm asking y'all to choose between two books from two authors. This month's choices are thanks to: Michelle@Because Reading, and Melanie@Rabid Reads.
Michelle Recommends Staci Hart
Your Choices Are:
Deer in Headlights
Hearts and Arrows #1
Synopsis
Lex is everything Dean needs -- but he can't ever have her.
It doesn't matter that she's beautiful or that her art and poetry speak to his shredded heart. She's the new drummer's girlfriend, the latest in a long line of drummers past. He promised the band he'd stay away to protect their record deal, so he's left with no choice but to deny his heart for the sake of their music.
Dean is everything Lex wants -- but she can't take the risk.
When Lex meets Dean, she's sure it's only attraction that has her so hung up on the dark, damaged lead singer, but the more she learns about him, the more she wants him. Love has never been worth the sacrifice, until now. But she can't put her heart on the line -- she won't -- even though she wants to for the first time.
If only they knew they were just pawns in a much bigger game. And in this game of love, Aphrodite never loses.
Hardcore Complete Series Box Set

Synopsis
Cory James has never known a life where she wasn't running. Running from the cops, her home, her past. Running from love. The only time she's free is when she throws on her hood and takes to the roofs to become a part of New York, to climb to a place in the city where she doesn't feel alone.
Stealing is nothing, lying inevitable, byproducts of survival. A way for Cory to provide for herself and for her younger sister, Jill, give her the life Cory couldn't have. For five years, Cory set up a long line of teetering dominos, one by one, choice by choice.
Meeting Van is the first domino to fall, and once they crash into each other, it's only a matter of time before her whole world is in danger of falling apart. She can tell herself over and again that she doesn't care, but it's a lie. She knows it from the first time she says his name, but she can't let him in, now when she has a job to do, a job that could rip her life apart at the seams. One that she'll have to betray Van to finish.
He'll follow however high she can climb, but she can only run for so long before she has to choose.

Melanie Recommends Eve Langlais
Your Choices Are:
C791
Cyborgs: More Than Machines #1
Synopsis
Machines aren't supposed to feel, but this cyborg can't help falling in love.
Assigned as a specimen collector for a captured cyborg, Chloe is intrigued by the machine disguised as a man. Kidnapped during his daring escape, he shows her that despite the chip in his brain, his humanity is not completely lost.
Formerly known as unit X109GI, Joe is on a quest to discover his origin. While he doesn't find the answers he's looking for, he does discover that affection isn't just for humans. But when it comes to a battle between logic and love, which side will the cybernetic organism--once a man--choose?
Evaluating his feelings will have to wait though because the military isn't done with Joe. But their threats against him pale in comparison before the shocking discovery of project C791, the revelation of which stuns the rebel cyborgs--and ignites a fury for vengeance.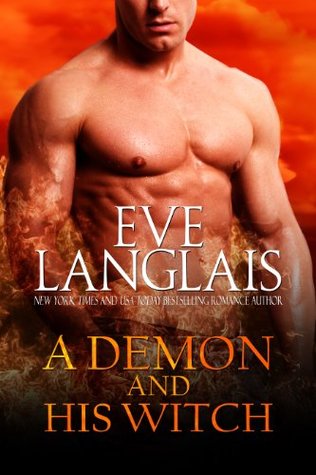 A Demon and His Witch
Welcome to Hell #1
Synopsis
Burning alive is nothing compared to the heat of his touch.
There are better ways to break up with a girl than having her roasted at the stake as a witch. Is it any wonder Ysabel has trust issues? She got her revenge, though, and it only cost her a slightly tarnished soul.
Working for Lucifer isn't all bad, until her ex-boyfriend escapes the bowels of Hell and she's forced to team up with the womanizing demon to fetch the jerk back.
As a minion in Lucifer's legion, Remy's seen a lot of things, but nothing can prepare him for the witch with the acerbic tongue - and voluptuous figure. The more she pushes him away, the more determined he becomes to seduce her. However, what's a poor demon to do when he accidentally falls in love and wants to keep her forever?
Welcome to Hell where you're screwed if you do and damned if you don't. And just so you know, Lucifer has a special spot reserved for you...
Okay, now vote! And thanks! :D
Create your own user feedback survey