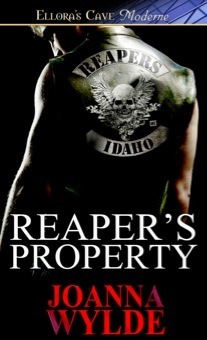 Reaper's Property by Joanna Wylde
Reapers MC #1
Release Date: January 9, 2013
Genre: Adult, Contemporary Romance
Source: Purchased paperback
Rating: 4.5 Bookworms
Goodreads
Recommended by: Robyn @Robgirlbooks
Synopsis
Marie doesn't need a complication like Horse. The massive, tattooed, badass biker who shows up at her brother's house one afternoon doesn't agree. He wants Marie on his bike and in his bed. Now.
But Marie just left her abusive jerk of an ex-husband and she's not looking for a new man. Especially one like Horse--she doesn't know his real name or where he lives, she's ninety percent certain he's a criminal and that the "business" he talks with her brother isn't website design. She needs him out of her life, which would be a snap if he'd just stop giving her mind-blowing orgasms.
Horse is part of the Reapers Motorcycle Club, and when he wants something, he takes it. What he wants is Marie, but she's not interested in becoming "property of".
Then her brother steals from the club. Marie can save him by giving Horse what he wants--at home, in public, on his bike... If she's a very, very good girl, she'll get lots more of those orgasms only he can offer, and he'll let her brother live.
Maybe.
**This book (and series) was recommended by Robyn @Robgirlbooks**
I'm hopping on the Reaper's bandwagon just a tad late but better late than never. Thanks, Robyn, for the rec! ;)
I loved my introduction into the Reapers MC and their world. One thing I enjoy about the MC genre is the brotherhood between the bikers and Wylde did a fantastic job with detailing these guys and that dynamic between them. It's a dynamic I find fascinating and I look forward to exploring it further.
But Reaper's Property is primarily the story of what happens after Marie meets Horse. Ah, these two. Their physical attraction is combustible from the get-go but they have much to work through seeing as Marie has just left an abusive husband. And while Horse is deeply entrenched in the MC life and all it's intricacies and complexities, Marie is clueless and less than thrilled with certain aspects. And then, of course, there's the issue of her brother's involvement and consequent trouble with the Reapers.
I thoroughly enjoyed Marie and Horse's story. My emotions ran the gamut between giggle-happy, boiling outrage, and tears. I might have felt Horse's tactics at getting Marie a little over-the-top except that he didn't at all balk at bending rules and taking advantage of circumstances to serve his purposes. Sometimes I felt Marie was a little too clueless - too gullible - but even though she'd had a somewhat difficult childhood, she'd really lived rather sheltered. And once all the lights flipped on, so to speak, her relationship with Horse was a beautiful thing.
Wylde kept me white-knuckling the book over Marie's brother's actions as well. He'd gotten himself into some serious shit and it made me a little sad that he dragged her into his mess.
With realistic and relatable characters, suspense, and spot-on pacing, Reaper's Property was the perfect blend of fun, scary, and hot. I can't wait to continue this series!