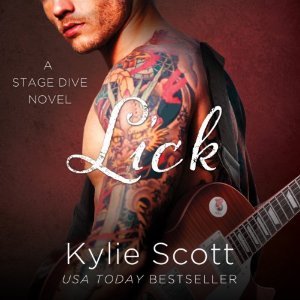 Lick by Kylie Scott
Stage Dive #1
Narrated by: Andi Arndt
Release Date: February 24, 2014
Genre: New Adult, Contemporary Romance
Format: Audio
Source: Audible credit
Rating: 4.5 Bookworms
Goodreads
Recommended by: Naomi @Nomi's Reading Palace
Synopsis
Waking up in Vegas was never meant to be like this. Evelyn Thomas' plans for celebrating her 21st birthday in Las Vegas were big. Huge. But she sure never meant to wake up on the bathroom floor with a hangover to rival the black plague, a very attractive half-naked tattooed man in her room, and a diamond on her finger large enough to scare King Kong. Now if she could just remember how it all happened. One thing is certain, being married to one of the hottest rock stars on the planet is sure to be a wild ride.
*This series was recommended by Naomi @Nomi's Reading Palace*
I'm hooked! I managed to complete this audiobook in 24 hours. Yep. It's that good. Lick will be appealing to anyone who has ever dreamed of a rock star falling in love with them - just an average girl. *sigh*
David and Ev get off to a rocky start - what with Ev waking up on the bathroom floor to realized she's puked on, oh and MARRIED a complete stranger. See Ev was celebrating her twenty-first birthday in style. While she has no memory of their night together, David remembers it all. And Ev not remembering is a blow to his ego. Not to mention the fact that she doesn't even know he's a founding member and lead guitarist for Stage Dive. However, rather than getting a quickie divorce, these two decide to get to know one another - to see if they can make sense together.
I adore Ev. She's a sweet girl who just hasn't found her path in life yet. Oh, she's got a plan and David would NOT fit in it. But as she gets to know David better, he helps her realize that just because it was a plan, doesn't mean you can't go off-course. It was heartwarming to see Ev mature enough to stand up for herself and go after what she really wanted.
David was a hart nut to crack. He had some obvious history that caused him some issues but he wasn't keen on sharing. This, of course, made Ev (and me) want to smack him. Except for that though, I really loved how he was with Ev. And I liked seeing him mature and realize what was important to him. (even if he made me want to smack him some more along the way)
The other band members, whom I know we'll get to know better, were interesting. Jimmy is basically a douche, really. We didn't see Benny much, but he made me palm itch to slap him in a certain scene. Mal...*sigh* I'm so looking forward to getting to Mr. Snark much better - and see if a woman can tame him.
It wasn't an easy journey for David and Ev. They had to deal with their own issues and insecurities along with meddling PAs, band members and attorneys, as well as the ruthless media and rabid fans. But in the end, they proved that sometimes the things that don't seem to make sense, actually make the most.
By the way, the narration by Andi Arndt was excellent! She did an incredible job with distinguishing voices, both female and male. And her delivery was spot on! I'll be looking for more from her.