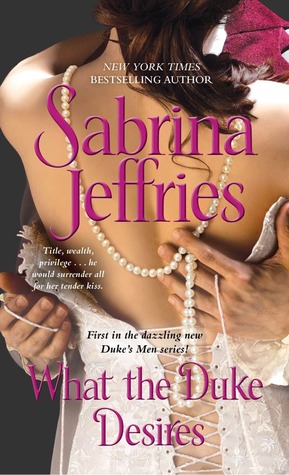 What the Duke Desires by Sabrina Jeffries
The Duke's Men #1
Release Date: June 18, 2013
Genre: Adult, Historical Romance
Source: Purchased on nook
Rating: 4.5 Stars
Goodreads
Recommended by: Sabrina Jeffries is an author Lexxie @(un)Conventional Book Views has been trying to get me to read almost as long as we've been friends
Synopsis
Maximilian Cale, the Duke of Lyons, long ago buried his grief for his missing elder brother, Peter, who was presumed dead after being kidnapped. When a mysterious note arrives from Tristan Bonnaud asserting that the Duke's brother is alive, it leads Max straight to the winsome Lisette Bonnaud, illegitimate daughter of a viscount and Tristan's sister. Soon he and Lisette are traveling to Paris posting as husband and wife, in search of Tristan, who has disappeared. And the longer he spends with Lisette, the easier it is for Max to see that the line between dukedom and desire is easier to cross than he imagined...
*This author comes recommended by Lexxie @(un)Conventional Book Views. *

I was immediately sucked in to What the Duke Desires, knowing my emotions were going to be toyed with after finishing just the prologue. Oh my! To think of living during this era when your life could change at the whim of one person...gah!
Jeffries deftly wove together a fascinating story with a fiery heroine and a slightly tortured hero. Getting each of their perspectives, even at their first meeting, was a delight and provided so much insight into who they truly were - their feelings. Their chemistry was immediately obvious and it made for hearty entertainment in their banter and actions as neither was interested in falling for the other. Their interplay reminded me of Mr. Darcy and Elizabeth. The backstory for them both also provided for more depth in their characters. And I adore them both!
The mystery, while not the focus of the story, is also well-done. It simultaneously created suspense in this story and laid brilliant groundwork for the subsequent stories in this series. Jeffries kept the flow perfect with the blend of humor, action, intrigue, and romance. Ah, the romance.
Jeffries' details of the period felt spot on. Oh the power the aristocracy could wield - at least in England. I admit to being delighted to find notes on all the historical research regrading events and people as well as diseases at the end of the book. I admire Jeffries' commitment to accuracy.
That said, the characters were the biggest draw here. I can't say that enough. And if you are a fan of historical romance and haven't read Jeffries, don't wait! *wink*
Lexxie has been recommending Jeffries almost as long as we've been friends. After this introduction, I wholeheartedly agree with her recommendation. I'm anxious to begin the next book in the series and hope to seem more of Max and Lisette.