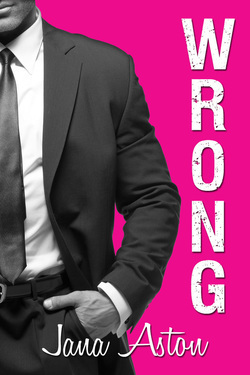 Wrong by Jana Aston
Release Date: October 7, 2015
Genre: Adult, Contemporary Romance
Source: I received a complimentary copy in exchange for an honest review. I loved it so much I bought my own copy!
Rating: 4.5 Stars
Goodreads
Recommended by: Okay, so technically I got this book for review BUT Naomi @Naomi's Reading Palace AND Lexxie @(un)Conventional Book Views both recommend it! ;)
Synopsis
I have a history of picking the wrong guy. Gay? Player? Momma's boy? Check, check and check.
Now I can't stop fantasizing about one of the customers at the coffee shop I work at between classes. It's just a harmless crush, right? It's not like I ever see this guy outside of the coffee shop. It's not like I'm going to see him while attempting to get birth control at the student clinic. While wearing a paper gown. While sitting on an exam table. Because he's the doctor. Shoot. Me.
But what if, for once, the man I've had the dirtiest, most scandalous fantasies about turned out to be everything but wrong?
Wrong is a full-length, standalone novel by Jana Aston.
*This book was first recommended by Naomi @Naomi's Reading Palace. Then, Lexxie @(un)Conventional Book Views also gave it a great review!*

Oh, what to say about Wrong?!? Maybe that it felt wrong to enjoy it so much? But I got over it...quickly! This book had me laughing hysterically, swooning, and blushing like a 12 year old girl. It's witty and fast-paced, snarky and sweet. And just so much dang fun!
Sophie is your typical college girl. She's near graduation, has a boyfriend, a hot crush, oh, and her v-card. Now, I like this sort of virgin heroine. Sophie has a very valid reason for hanging on to it for so long and she is no shrinking violet. This girl is honest and rather outspoken. She's someone you can look up to.
Luke, Sophie's hot crush, is, well...HOT. He's sophisticated, dresses well, and he just happens to end up examining Sophie when she decides it's time for some birth control. *cue mortified face*
I liked the backstory Aston gave both Sophie and Luke. It provided them depth and complexity. I also liked that Luke went all alpha on Sophie but she didn't become some meek girl. The banter between them was sharp and witty. And the supporting cast was fleshed out just enough to make them interesting.
I do wish the end had been expanded a little more. It felt a little rushed because it wasn't but I'm not complaining...really. I couldn't be happier with this delightful debut. I hope to see more from Aston soon!