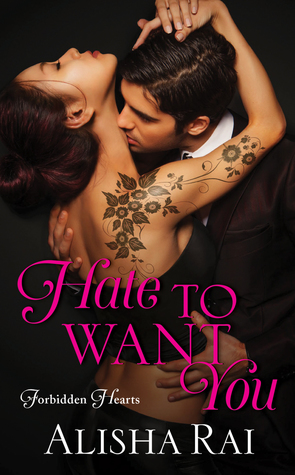 Hate to Want You by Alisha Rai
Forbidden Hearts #1
Release Date: March 8, 2016
Genre: Adult, Contemporary Romance
Source: Purchased on Kindle
Rating: 4 Bookworms
Challenges: #COYER
Goodreads
Synopsis
One night. No one will know.
That was the deal. Every year, Livvy Kane and Nicholas Chandler would share one perfect night of illicit pleasure. The forbidden hours let them forget the tragedy that haunted their pasts - and the last names that made them enemies.
Until the night she didn't show up.
Now Nicholas has an empire to run. He doesn't have time for distractions and Livvy's sudden reappearance in town is a major distraction. She's the one woman he shouldn't want...so why can't he forget how right she feels in his bed?
Livvy didn't come home for Nicholas, but fate seems determined to remind her of his presence - and their past. Although the passion between them might have once run hot and deep, not even love can overcome the scandal that divided their families.
Being together might be against all the rules...but being apart is impossible.

Oh so much to love about Hate to Want You! Alisha Rai is a new-to-me author that I picked up after reading Nick's review (@Nick and Nereyda's Infinite Booklist) of book #2 in this series. Thanks for the recommendation, Nick! You've made me a fan of Rai!
Highlights
Diversity
Maybe it's a strange thing to lead with but I adored the fact that Rai's characters were diverse in looks, race, ethnicity, religion, and even sexual preference. Fantastic!
Mental Illness
Rai also wrapped part of the plot around mental illness. She discussed therapy, treatment, and the toll it takes on everyone. Rai did this authentically and realistically and I appreciated it.
Plot
The plot revolves around a couple divided by feuding families. The families weren't always at war and Rai did a great job of giving us backstory - both the good and the bad. I liked how she wasn't always forthcoming about information - giving us rumors and speculation - so we could draw our own conclusions about a few things. I also liked how she went about giving our MCs their second chance despite family politics.
Livvy + Nico
These two have quite the history. They both made decisions thinking of everyone but themselves...and they spent ten years being miserable. The way Rai brought them back together was compelling and I was happy to be along for the ride as well as being there once they reached their destination.
Secondary Cast
Rai did well in creating a secondary cast that I enjoyed spending time with and hope to learn more about in future installments. I especially hope to uncover more in regards to the things not explicitly explained about the feud.
Overall, I'm pretty dang excited about my introduction to Rai. Livvy and Nico's story was one I wanted to know and I'm eager to get a few others' stories now as well.