My To-Be Read List is a meme hosted by Michelle @Because Reading. I think it's a fabulous idea because it gets y'all in the game and it helps me knock off some of the many, many books on my TBR list. You're more than welcome to join in the fun! I've included the basic rules below but you can click on the graphic above to hop over to Michelle's site where you can find all the details.
Here's how it works:
On the first Saturday of each month, I will make a post with three books from my TBR List (these books can be already on your ereader or bookshelf OR books you might want to purchase) and add your link on the linky that will be provided on Michelle's post. Y'ALL will help me choose which book I will read next. The following Saturday, I will announce which book won. Then the last Saturday of the month, I'll post my review.
Fun, right?!?
In 2018, I'm once again working at catching up on series and y'all get to decide which series I'm going to catch up on each month! :D
Y'all, this was a challenge. I use random.org to pick books from my list but I had to make sure they fit the parameters for COYER, too! LOL I did it though...
Your Choices Are:
Passionate Addiction
Reckless Beat #2
Synopsis
He's been her ultimate untouchable desire.
Nothing says happy birthday like a rock god flying thousands of miles to surprise a woman he's never met. But that's exactly what happens to Gabi Smith when she gives her long distance best friend a flippant invitation to her laid back girl's night out. She never expected to turn on the dance floor and find Blake Kennedy's gaze holding her body captive.
She's his everything and he's never laid eyes on her.
Gabi means more to Blake than life itself. She's his strength, his savior, and the only person who helped to vanquish his demons. Non one means more to him than his angel. So when things between them start to sizzle, he's ready to fight for the future he never thought he would deserve.
Skeletons from his past will threaten his only chance at love...
Blake has come a long way - with Gabi's help - to leave the hell of his youth behind him, but sometimes memories don't want to stay buried. Determined to stand on his own for once, Blake is willing to stretch the truth to keep his troubles from burdening the woman he adores.
Little white lies can create black holes in any relationship. Only time will tell if an Aussie with a heart of gold will forgive her bad-boy boyfriend or if the deceit will end his passionate addiction.
Once Bitten, Twice Shy
Bitten #2

Synopsis
I used to think my life was boring. I resigned myself to the rut I was stuck in. Then my entire existence was turned upside down.
In the last six months, I've learned things that would get me committed to an asylum if I repeated them. First, I was kidnapped by vampires. Yes, vampires. Sounds crazy, right? My best friend, Donna, became one of the fanged after that little adventure and hooked up with a hot, Scottish vampire named Conner. They're even planning a wedding.
Secondly, I learned not all vampires are evil. In fact, some of them are downright sexy.
Alexander Dimitriades has it all. He's tall, dark, and handsome and manages to give me tingles in all the right places and also make me laugh. Unfortunately, to be with him, I would have to give up my humanity and I like being human. Then, there's the fact that the whole drinking blood thing gives me the heebie jeebies.
To make matters worse, there are plans in motion to change the place vampires hold in the human world. And I'm caught in the middle, between the vampire I'm falling in love with and a group that wants to create a vampire dictatorship, with humans as slaves.
Now, all I want is my calm, normal life back. As my friend, Ricki, likes to say, "Be careful what you wish for because it might come and bite you on the ass." I hate it when she's right.
*This work contains BDSM elements/themes, spanking, bondage, anal play, and a bossy, persistent Greek vampire.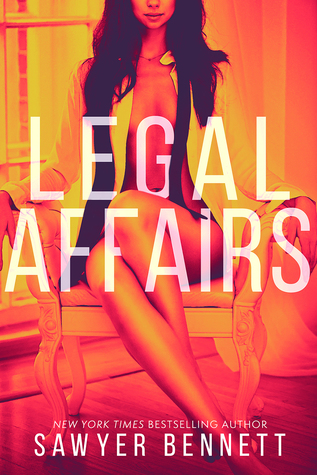 Legal Affairs
Legal Affairs #1
NOTE: I started this series at #4 with Friction
Synopsis
One year ago, I graduated from law school and embarked on a career as purveyor of high priced legal shenanigans.
Six months ago, my boyfriend dumped me when I thought he might be proposing.
Two weeks ago, I got drunk and joined a secret sex club.
Two days ago, I had a torrid one-night stand with a stranger.
Today? My one-night stand is no longer a stranger.
Today, he's my new boss.
Matt Connover is all kinds of forbidden temptation wrapped up in a deliciously wicked package, and he's made it clear... he's only interested in sex.
My name is McKayla Dawson, and I work at the powerhouse firm of Connover & Crown, LLP, where the law has never felt so hot.
But between you and me, I'm afraid my heart won't survive these Legal Affairs.
Okay, now vote! And thanks! :D
Create your own user feedback survey