My To-Be Read List is a meme hosted by Michelle @Because Reading. I think it's a fabulous idea because it gets y'all in the game and it helps me knock off some of the many, many books on my TBR list. You're more than welcome to join in the fun! I've included the basic rules below but you can click on the graphic above to hop over to Michelle's site where you can find all the details.
Here's how it works:
On the first Saturday of each month, I will make a post with three books from my TBR List (these books can be already on your ereader or bookshelf OR books you might want to purchase) and add your link on the linky that will be provided on Michelle's post. Y'ALL will help me choose which book I will read next. The following Saturday, I will announce which book won. Then the last Saturday of the month, I'll post my review.
Fun, right?!?
In 2018, I'm once again working at catching up on series and y'all get to decide which series I'm going to read each month! :D
This month, I'm letting y'all choose from series that I only lack ONE book finishing! :)
Your Choices Are: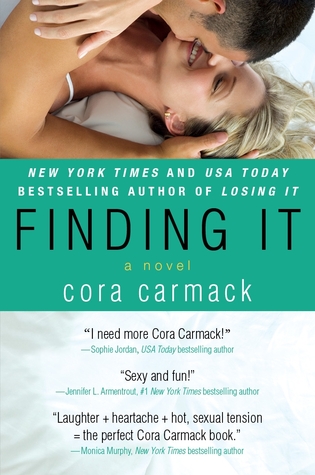 Finding It
Losing It #3
Synopsis
Sometimes you have to lost yourself to find where you truly belong...
Most girls would kill to spend months traveling around Europe after college graduation with no responsibility, no parents, and no-limit credit cards. Kelsey Summers is no exception. She's having the time of her life...or that's what she keeps telling herself.
It's a lonely business trying to find out who you are, especially when you're afraid you won't like what you discover. No amount of drinking or dancing can chase away Kelsey's loneliness, but maybe Jackson Hunt can. After a few chance meetings, he convinces her to take a journey of adventure instead of alcohol. With each new city and experience, Kelsey's mind becomes a little clearer and her heart a little less hers. Jackson helps her unravel her own dreams and desires. But the more she learns about herself, the more Kelsey realizes how little she knows about Jackson.
Struck from the Record
Record #4

Synopsis
Clay Maxwell is a smart, quick witted, sex-driven, manwhore with the good looks to match. Plenty of women have shared his bed, but only one has ever been constant, Andrea.
Their rules were simple. When they're together, it's just the two of them. When they're apart, anything is fair game. And it worked. For ten years.
But one of them has changed the game...
Clay must decide if his player ways are worth losing the one girl who has always been there.
Sinner
Wolves of Mercy Falls #4
Synopsis
found.
Cole St. Clair has come to California for one reason: to get Isabel Culpeper back. She fled from his damaged, drained life, and damaged and drained it even more. He doesn't just want her. He needs her.
lost.
Isabel is trying to build herself a life in Los Angeles. It's not really working. She can play the game as well as all the other fakes...but what's the point? What is there to win?
sinner.
Cole and Isabel share a past that never seemed to have a future. They have the power to save each other and the power to tear each other apart. The only thing for certain is that they cannot let go.
Okay, now vote! And thanks! :D
Create your own user feedback survey