Y'all, I can't express how much I love this series. CD Reiss really has a way with words. My reviews today are for Jessica and Sharon, #3.5 in the serial, and Control, #4. I have completed the series though and am looking forward to continuing Songs of Perdition and starting Songs of Corruption.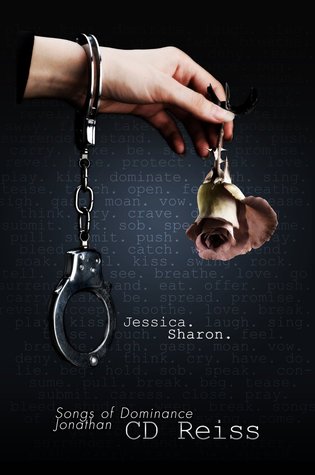 Jessica and Sharon by CD Reiss
Songs of Submission #3.5/Songs of Dominance #1 & #2
Genre: Erotic Romance
Release Date: May 10, 2013
Source: Purchased ebook from Amazon
Rating: 5 Bookworms
*This book is NOT a standalone. You need to read the others inthe Songs of Submissions Series*
Synopsis
The world through Jonathan Drazen's eyes.
The Songs of Dominance were released as an experiment. They were traded peer-to-peer on the Goodreads group, CD Canaries, and on my Facebook page.
But the stories have become canonical, and things are revealed here that will become important later, so I feel they need to reach a larger audience. Please read these after Submit, or you're going to run into major spoilers. It's best if you read before Control, but not a big deal if you read Control first.
In Jessica and Sharon, we witness Jonathan's side of scenes from Submit. He told Monica about these actions in Submit but seeing Jonathan's POV was something else entirely.
I enjoyed getting to see how Jonathan handled things with Jessica, his epiphany about his feelings towards her.
And I got another glimpse at how conniving Jessica is. Jonathan's relationship with Sharon is different and I appreciated how he took care with Sharon, knowing how his actions might affect her.
The best part of this tiny read, besides getting into Jonathan's head, is seeing some things revealed that end up being important and very interesting later in the series. I read this in one-sitting and I'm telling y'all, this is a must-read serial! It's gritty, dirty, and beautiful. I just love it!
Release Date: May 10, 2013
Source: Purchased ebook from Amazon
Synopsis
What you're breaking isn't some little, meaningless coupling. We aren't some casual fuck, and we never were. Not from the first night. Not from the first time I laid eyes on you. You were built for me. I denied it as long as I could, but we were meant to be together. You are the sea under my sky. We're bound at the horizon.
In Control, we see Jonathan and Monica getting in deeper and deeper despite neither wanting to. Their relationship must weather quite a few hardships and tests though. Jonathan's ex-wife, Jessica, wants him back and has no scruples when it comes to what she'll do to accomplish that. There's also someone crossing lines (stalking) Monica and Jonathan will do whatever it takes to protect her. But the biggest hurdles they must overcome are themselves.
One change in Control I was delighted with was getting Jonathan's POV. At first, I didn't think it was going to add that much - and then it did. Reiss' prose continues to astonish me and I'm constantly on edge wondering what/who will conspire against them.
I'm so addicted to this couple.