My To-Be Read List is a new meme hosted by Michelle @Because Reading. Michelle has been doing this for awhile and recently decided to extend the fun for us all. I thought it was a fabulous idea because it gets y'all in the game and it helps me knock off some of the many, many books on my TBR list. You're more than welcome to join in the fun! I've included the basic rules below but you can click on the graphic above to hop over to Michelle's site where you can find all the details.
Here's how it works:
On the first Saturday of each month, I will make a post with three books from my TBR List (these books can be already on your ereader or bookshelf OR books you might want to purchase) and add your link on the linky that will be provided on Michelle's post. Y'ALL will help me choose which book I will read next. The following Saturday, I will announce which book won. Then the last Saturday of the month, I'll post my review.
Fun, right?!?
Wow ~ I had a lot of voters this month! Thanks for that. And apparently, quite a few of y'all are JLA fans. ;)
The winner is: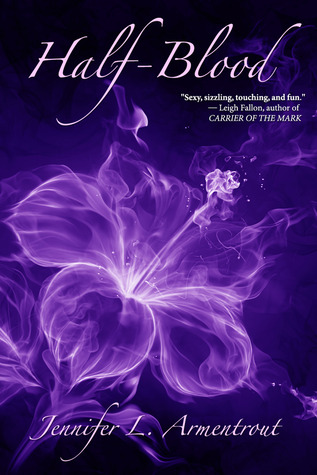 Half-Blood
Covenant #1
The Hematoi descend from the unions of gods and mortals, and the children of two Hematoi pure bloods have godlike powers. Children of Hematoi and mortals -- well, not so much. Half-bloods only have two options: become trained Sentinels who hunt and kill daimons or become servants in the homes of the pures. Seventeen-year-old Alexandria would rather risk her life fighting than waste it scrubbing toilets, but she may end up slumming it anyway. There are several rules that students at the Covenant must follow. Alex has problems with them all, but especially rule #1: Relationships between pures and halfs are forbidden. Unfortunately, she's crushing hard on the totally hot pure-blood Aiden. But falling for Aiden isn't her biggest problem--staying alive long enough to graduate the Covenant and become a Sentinel is. If she fails in her duty, she faces a future worse than death or slavery: being turned into a daimon, and being hunted by Aiden. And that would kind of suck.
Thanks for voting, y'all. And don't worry. I'll be reading both The Scorpio Races and Troy High at some point this year. :)