My To-Be Read List is a monthly meme hosted by Michelle @Because Reading.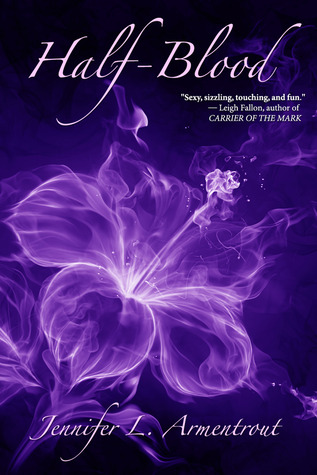 Half-Blood
Covenant #1
Release Date: October 18, 2011
Genre: YA, Fantasy, Mythology
Source: Purchased on Nook
Rating: 4 Bookworms
Goodreads
Synopsis
The Hematoi descend from the unions of gods and mortals, and the children of two Hematoi pure bloods have godlike powers. Children of Hematoi and mortals -- well, not so much. Half-bloods only have two options: become trained Sentinels who hunt and kill daimons or become servants in the homes of the pures. Seventeen-year-old Alexandria would rather risk her life fighting than waste it scrubbing toilets, but she may end up slumming it anyway. There are several rules that students at the Covenant must follow. Alex has problems with them all, but especially rule #1: Relationships between pures and halfs are forbidden. Unfortunately, she's crushing hard on the totally hot pure-blood Aiden. But falling for Aiden isn't her biggest problem--staying alive long enough to graduate the Covenant and become a Sentinel is. If she fails in her duty, she faces a future worse than death or slavery: being turned into a daimon, and being hunted by Aiden. And that would kind of suck.
I adored Half-Blood - but I'm really torn...
I can't decide if I'm going to be Team Aiden or Team Seth!! ;)
Okay, seriously though, I'm so happy I finally dove into this series. I can't believe I waited so long. I know I'm one of the few who haven't read it - but better late than never. I don't want to repeat all you've said or read about Half-Blood, so I'm just going to tell you why I adored it.
JLA did an excellent job of taking Greek mythology and making it her own. The concept of the Pures and the Halfs was unique. I really liked how she set up this world.

I was riveted needing to know where all the clues about Alex were going to go.

The sexual tension between Alex and Aiden was palpable. This is something JLA does well.

The tension and snarky banter between Alex and Seth was fun and it was a nice break from the serious tone of the book.

Alex is a great heroine - I liked her more and more as the story moved along. She didn't always make smart decisions, which amp'ed up the angst, but I understood her logic (?). She's very much "foolishly brave", as Aiden describes her. She's also very strong, emotionally. She's endured very difficult things in her short life and persevered.

I liked the friendship between Alex and Caleb, the antagonism between Alex and Lea, and the familial struggle between Alex and her step-father Lucien, as well as her uncle, Marcus.

I felt JLA did an excellent job of realistically portraying a teenage girl facing many difficult events and decisions.

Aiden Oh, you want more? I liked how supportive of Alex he is - both professionally and emotionally. He was there when Alex needed him. And I'm impressed with his selfless decision regarding her. I'm sure it won't stick, but it's the thought, right??

Seth - yeah, he was kinda arrogant when he came on to the scene. Alex couldn't figure him out but she had some ideas once certain revelations were made and I tended to agree with her. And then, after certain other events, he shows a different side of himself and I see a lot of potential in him.

JLA set up the rest of the series nicely with the ending. I can't wait to get on into the rest of the series.
I'll get back to y'all on Team Aiden or Team Seth. ;)