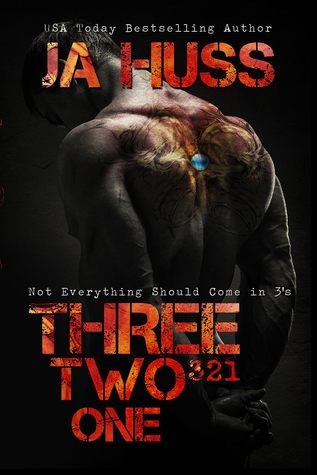 Three, Two, One
by JA Huss
Release Date: January 28, 2015
Genre: Dark Romantic Suspense, Erotic Romance
Source: I received a complimentary copy from the author in exchange for an honest review. I also purchased my own copy.
Rating: 5 Bookworms
Goodreads ~ Amazon
ONE GIRL
Battered, barefoot, and huddled under a bookstore awning in the pouring rain, Blue only knows one thing. After fifteen months of captivity, finally...she is free.
TWO FRIENDS
Self-made millionaires JD and Ark are not out to save anyone when they stumble upon a wet and shivering girl one early Sunday morning. But when you sell sex for a living and salvation rings your bell...you answer the call.
THREE SOULMATES
After years of searching, love lifts the veil of darkness, and three people--with three very big secrets--find themselves bound together in a relationship that defies the odds.
Or does it?
Love. Lust. Sex.
This trinity might be perfection...but not everything should come in 3's.
Warning: This is a standalone non-traditional M/F/M romance with a non-traditional ending.
**Please note: This is erotica and as such is not suitable for those under 17**
Y'all know I'm a huge fan of JA Huss. I've been worrying that I'm running out of ways to fangirl over the greatness of her storytelling abilities. I mean, the lady is incredibly talented...but I've said that before.
And then she goes and writes Three, Two, One - and I find I can fangirl just fine. It's quintessential Huss and yet it's something totally new. There's suspense - Huss is really a master at devising twists and turns, taking you on a ride where you're never certain what's going on. Three, Two, One definitely delivers on that front. It also has an element of social awareness on a very relevant issue. It's a tale of making mistakes and getting second chances, finding your soulmates in the least expected places at the least convenient time. It's about getting lost in the pull of money, sex, and revenge. And then there's the romance. Huss' steamy scenes only get better as she becomes more seasoned at writing them. Three, Two, One is H.O.T. Like, steaming up my glasses hot...blushing in the middle school parking lot hot. Unexpected and yet incredibly well-written HOT. Yeah. The sex is between two guys and one girl and does involve some kink - so be aware of that if it's not your thing. But it was all beautifully and lovingly done.
All these elements combined for a fantastic story. You'll notice I didn't say much about the actual story. That's because it needs to be experienced. Huss said this is non-traditional and I suppose it is. And I loved every provocative moment of it. In fact, I think this may be my favorite of her books - and that's saying something. Huss has blown me away...again...and in a bigger way than ever before.