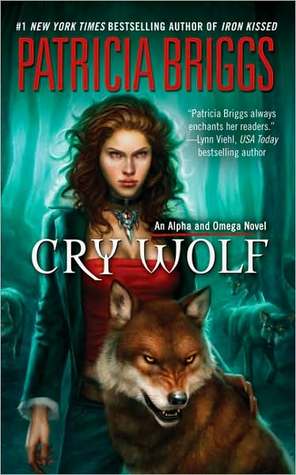 Cry Wolf
Alpha & Omega #1
Genre: Urban Fantasy, Paranormal Romance
Release Date: July 29, 2008
Source: Purchased from B&N on nook
Rating: 4.5 Bookworms
Goodreads
Synopsis
Anna never knew werewolves existed, until the night she survived a violent attack...and became one herself. After three years at the bottom of the pack, she'd learned to keep her head down and never, ever trust dominant males. Then Charles Cornick, the enforcer--and son--of the leader of the North American werewolves, came into her life.
Charles insists that not only is Anna his mate, but she is also a rare and valued Omega wolf. And it is Anna's inner strength and calming presence that will prove invaluable as she and Charles go on the hunt in search of a rogue werewolf--a creature bound in magic so dark that it could threaten all of the pack.
It's been awhile since I spent time with Mercy and Adam and I feel like I'm betraying them a little but...I think I love Anna and Charles just as much. Maybe more. Cry Wolf was exciting, suspenseful, and fascinating. Here are a few reasons why:
1) Anna's an Omega - I had no idea what that meant but I learned and it was captivating.
2) Charles - he may be the Marrok's son and his assassin...he may also be quiet and have trouble expressing himself but I think he might be better with words than Samuel. Plus, he's a hot Native American and Anna brings out all his "good" stuff and we're able to see the softer side of Charles.
3) Asil - I adored the one-upsmanship between Asil and Charles. The dialog between these two provided some much needed comic relief.
4) BRAN! Getting to know more about the Marrok, his history, etc., was an absolute delight. I've adored him since he was introduced in Mercy's series, but he's been such an enigma. I'm so much better acquainted with him now. And I know he's actually scared of something.
I am very grateful to Braine for the heads-up about reading Alpha & Omega first. It certainly helped in my understanding of Anna - what she'd endured and why she reacted like she did.
I'm sad I waited so long to start this series. And I can't wait to get further into it!