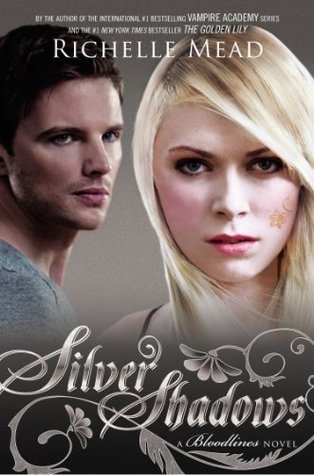 Silver Shadows
Bloodlines #5
Release Date: July 29, 2014
Genre: YA Paranormal Romance
Source: Purchased Hardcover
Rating: 4.5 Bookworms
Goodreads
Synopsis
Sydney Sage is an Alchemist, one of a group of humans who dabble in magic and serve to bridge the worlds of humans and vampires. They protect vampire secrets--and human lives.
In The Fiery Heart, Sydney risked everything to follow her gut, walking a dangerous line to keep her feelings hidden from the Alchemists.
Now in the aftermath of an event that ripped their world apart, Sydney and Adrian struggle to pick up the pieces and find their way back to each other. But first, they have to survive.
For Sydney, trapped and surrounded by adversaries, life becomes a daily struggle to hold on to her identity and the memories of those she loves. Meanwhile, Adrian clings to hope in the face of those who tell him Sydney is a lost cause, but the battle proves daunting as old demons and new temptations begin to seize hold of him...
Their worst fears now a chilling reality, Sydney and Adrian face their darkest hour in this heart-pounding fifth installment in the New York Times bestselling Bloodlines series, where all bets are off.
Silver Shadows was an intense read. With Sydney suffering at the hands of the Alchemists and Adrian suffering at the hands of Spirit, I spent much of the book on edge. There is so much going on and so many unanswered questions. Why do the Alchemists have to be so bigoted in their beliefs? What's going going on in Adrian's head? Is there a conspiracy between certain factions?
I spent the first half of Silver Shadows on pins and needles wondering how Sydney was going to survive her situation. The Alchemists are rather ruthless in their methods and Sydney broke a cardinal rule. But she is nothing if not resourceful. I shouldn't have been surprised by her logic and cunning. I also spent half the book wanting to punch Adrian in the throat. I've been enchanted by him from the beginning but his behavior was over-the-top selfish and made me steaming mad.
Then, naturally, Adrian redeems himself in a grand way. *sigh* Oh, there's still much intrigue afoot and he and Sydney are far from being out of danger, but at least I was back to wanting to hug him rather than throttle him.
It was exciting to have Marcus back in the mix and I also enjoyed seeing Lissa, Rose, and Dimitri - although it was far too short a time. I have a feeling they'll play a greater role in the final installment as things come to a head and everything is illuminated.
One thing I really enjoyed was how Mead pulled in elements from previous installments - things that seemed innocuous or that made me wonder why they'd been included. These elements were made relevant and useful.
I'm anxious to see how it's all going to play out - to have all my questions answered and to see the final image as the last brush strokes are laid. Mead certainly knows how to create excitement and suspense. It's a good thing I have The Ruby Circle lined up. ;)