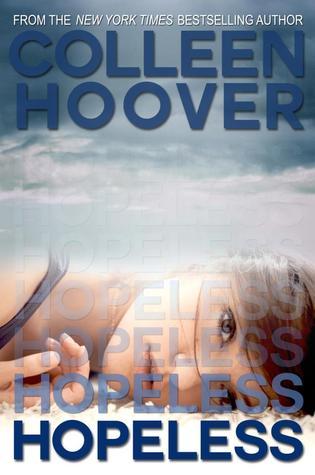 Hopeless
Hopeless #1
Release Date: December 19, 2012
Genre: New Adult, Contemporary Romance
Source: Purchased paperback
Rating: 5 Bookworms
Goodreads
Synopsis
Sometimes discovering the truth can leave you more hopeless than believing the lies...
That's what seventeen-year-old Sky realizes after she meets Dean Holder. A guy with a reputation that rivals her own and an uncanny ability to invoke feelings in her she's never had before. He terrifies her and captivates her all in the span of just one encounter, and something about the way he makes her feel sparks buried memories from a past that she wishes could just stay buried.
Sky struggles to keep him at a distance knowing he's nothing but trouble, but Holder insists on learning everything about her. After finally caving to his unwavering pursuit, Sky soon finds that Holder isn't at all who he's been claiming to be. When the secrets he's been keeping are finally revealed, every single facet of Sky's life will change forever.
Why, oh why did I wait so long to read this?? Colleen Hoover is an incredibly talented storyteller. She takes painful topics and weaves amazing stories around them, creating robust characters as well. Hopeless was sometimes funny,
"Relax," I say, after seeing her eye both Holder and Breckin, with concern. "Neither one of them is getting me pregnant this weekend."
sometimes painful,
Despite the fact that I want to be mad at him, I just can't. If he wasn't here right now to comfort me after the realization I just had, I don't know what I would do. He's done nothing but place blame on himself for every single thing that's ever happened to me. I'm beginning to accept the fact that maybe he needs comforting just as much as I do. For that, I allow him to steal another piece of my heart.
sometimes poignant,
"Let's not let this be your life tonight," he says. "Let's get back in the car and pretend we're driving away because we want to...not because we need to. We can pretend I'm taking you somewhere amazing...somewhere you've always wanted to go. You can snuggle up to me and we can talk about how excited we are and we'll talk about everything we'll do when we get there We can talk about the important stuff later. But tonight...let's not let this be your life."
sometimes awe-inspiring,
"Fuck all the firsts, Sky. The only thing that matters to me with you are the forevers."
I kiss him. Holy shit, do I kiss him. I kiss him with every ounce of emotion that's coursing through me. He cradles my head with his hand and lowers me back to the bed, climbing on top of me. "I love you," he says. "I've loved you for so long but I just couldn't tell you. It didn't feel right letting you love me back when I was keeping so much from you."
Both Sky and Holder have painful, traumatic pasts. Hoover wraps them in love, healing, dreams, and possibilities. She shows that there must always be darkness in order to have light.