Teaser Tuesdays is a weekly bookish meme, hosted by MizB of Should Be Reading. Anyone can play along! Just do the following:
•
Grab your current read
•
Open to a random page
•
Share two (2) "teaser" sentences from somewhere on that page
•
BE CAREFUL NOT TO INCLUDE SPOILERS! (make sure that what you share doesn't give too much away! You don't want to ruin the book for others!)
•
Share the title & author, too, so that other TT participants can add the book to their TBR Lists if they like your teasers!
***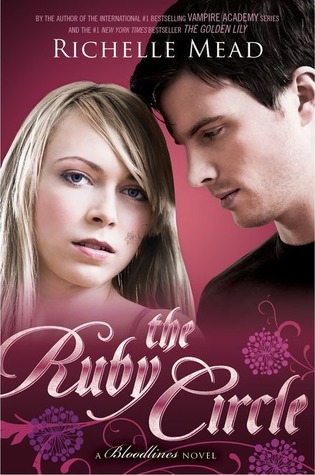 The Ruby Circle
Bloodlines #6
THEY WILL BE TESTED
Sydney Sage is an Alchemist, one of a group of humans who dabble in magic and serve to bridge the worlds of humans and vampires. They protect vampire secrets - and human lives.
Their forbidden romance exposed, Sydney and Adrian find themselves facing the wrath of both the Alchemists and the Moroi in this electrifying conclusion to Richelle Mead's bestselling Bloodlines series.
When the life of someone they both love is put on the line, Sydney risks everything to hunt down a deadly former nemesis. Meanwhile, she and Adrian becomes enmeshed in a puzzle that could hold the key to a shocking secret about spirit magic, a secret that could shake the entire Moroi world and alter their lives forever.
Don't miss their unforgettable final chapter...
LOVE WILL CONQUER ALL
***Teaser***

"The two of them made a striking combo, one dark and one golden, both utterly fearless in the face of danger. They were beautiful in the deadliness."