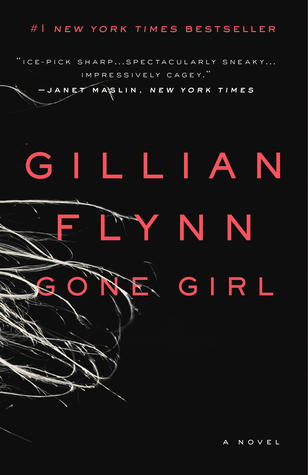 Gone Girl by Gillian Flynn
Release Date: April 22, 2014
Genre: Contemporary Fiction, Thriller
Source: Purchased paperback
Rating: 3.5 Bookworms
Goodreads
Synopsis
On a warm summer morning in North Carthage, Missouri, it is Nick and Amy Dunne's fifth wedding anniversary. Presents are being wrapped and reservations are being made when Nick's clever and beautiful wife disappears. Husband-of-the-Year Nick isn't doing himself any favors with the cringe-worthy daydreams about the slope and shape of is wife's head, but passages from Amy's diary reveal the alpha-girl perfectionist could have put anyone dangerously on edge. Under mounting pressure from the police and the media--as well as Amy's fiercely doting parents--the town golden boy parades an endless series of lies, deceits, and inappropriate behavior. Nick is oddly evasive, and he's definitely bitter--but is he really a killer?
Provocative. There are so many things I could say about
Gone Girl
but it all boils down to that one word. Since this book has been around, and was even made into a movie, I'm not going to rehash it all. Besides, to do so might ruin the experience for any of you who haven't read it or seen it. I'm going to talk about how it made me feel.
Gone Girl is divided into 3 parts, alternating POVs between Amy and Nick.
Part One (which has a title much better than Part 1)
In this first section, Flynn did well in creating empathy for Amy and a somewhat antipathetic feeling towards Nick. I enjoyed seeing how it all began for this couple as well as getting a feel for Amy and Nick separately.
Part Two
In part 2, I learned appearances can be deceiving, and that you don't always know everything you think you know about a person.
Part Three
I decided that Amy and Nick were perfect for one another. They deserved everything they dished out at the other.
Flynn's story was disturbing, not only in what it said about marriage - how well do you ever really know someone? - but I felt it also made statements about society - the media, the legal system, how wrapped up people can become in it all - and human nature - the line between insanity and genius. I was emotionally disturbed, physically disgusted, and honestly, I'm not sure I've ever read a book where I couldn't stand either of the MCs. Portions of the ending were a bit trite (I can see Amy sneering at me for that) but otherwise, Gone Girl is a tautly written story and I have to give props to Flynn for compelling me to read about awful people.
I recommend Gone Girl if you enjoy stories that make you think, evoke intense negative emotions, and engage you with morally circumspect characters. It was an interesting read to be sure.