My To-Be Read List is a meme hosted by Michelle @Because Reading. I think it's a fabulous idea because it gets y'all in the game and it helps me knock off some of the many, many books on my TBR list. You're more than welcome to join in the fun! I've included the basic rules below but you can click on the graphic above to hop over to Michelle's site where you can find all the details.
Here's how it works:
On the first Saturday of each month, I will make a post with three books from my TBR List (these books can be already on your ereader or bookshelf OR books you might want to purchase) and add your link on the linky that will be provided on Michelle's post. Y'ALL will help me choose which book I will read next. The following Saturday, I will announce which book won. Then the last Saturday of the month, I'll post my review.
Fun, right?!?
This month, I'm having y'all decide which series I'm going to work at catching up on! :D
Your Choices Are: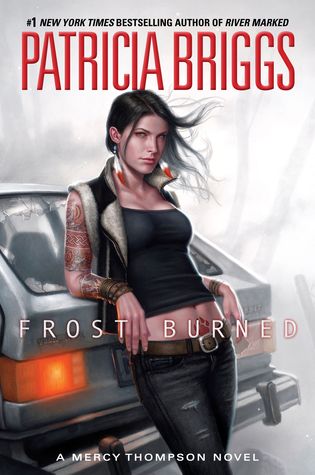 Frost Burned
Mercy Thompson #7
Synopsis
Mercy Thompson's life has undergone a seismic change. Becoming the mate of Adam Hauptman - the charismatic Alpha of the local werewolf pack - has made her a stepmother to his daughter Jesse, a relationship that brings moments of blissful normalcy to Mercy's life. But on the edges of humanity, a minor mishap on an ordinary day can turn into so much more. After an accident in bumper-to-bumper traffic, Mercy and Jesse can't reach Adam - or anyone else in the pack for that matter. They've all been abducted. Through their mating bond, all Mercy knows is that Adam is angry and in pain. Outclasses and on her own, Mercy may be forced to seek assistance from the most unlikely of allies: the vampire seethe.
Edge of Oblivion
Night Proweler #2

Synopsis
There exists a world beyond our own. It is a world of ancient magic and well-guarded secrets, a world of strict laws and harsh punishments for those who betray them, a world inhabited by the Ikati, a race of gifted people who are so much more than they first appear. Brought together by fate in this world of danger and beauty, two people with dark pasts will meet.
Morgan is beautiful, smart, sexy...and about to die. Convicted of treason against her shape-shifting kin, she is given one last chance at redemption; discover the hidden lair of the enemy intent on destroying every one of her kind, or forfeit her life.
Xander is ruthless, heartless, cold-blooded...and assigned to kill her if she fails in her task. Expecting to feel nothing but contempt for the traitor under his watch, the assassin accompanies Morgan on her search, but as the two race through the heart of Italy while the clock winds down to zero hour, he finds himself drawn into a dangerous web of desire as powerful as it is forbidden. Their passion will test everything they believe in, and endanger the future of the tribe itself.
The Undead Pool
The Hollows #12
Synopsis
Witch and day-walking demon Rachel Morgan has managed to save the demonic ever after from shrinking, but at a high cost. Now strange magic is attacking Cincinnati and the Hollows, causing spells to backfire or go horribly wrong, and the truce between the races, between Inderlander and human, is shattering.
Rachel must stop the occurrences before the undead vampire masters who keep the rest of the undead under control are lost and it becomes all-out supernatural war. However, the only way to do so is through the ancient elven wild magic, which carries its own perils.
Okay, now vote! And thanks! :D
Create your own user feedback survey