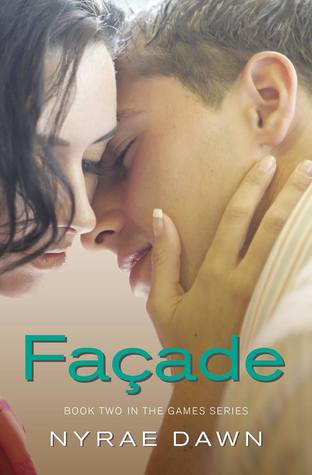 Facade by Nyrae Dawn
Games #2
Release Date: July 2, 2013
Genre: New Adult, Contemporary Romance
Source: eARC via Netgalley
Rating: 4.5 Bookworms
Challenges: #BloggerShame, #COYER B2B, #ShelfLove
Goodreads
Synopsis
Can love save them?
After her father commits a crime that shatters her family, eighteen-year-old Delaney Cross is tired of pretending everything is all right. Packing up her car, she sets out to find the people her father hurt. Her search leads her to places she's never been--and into the arms of Adrian Westfall.
To the outside world, Adrian is a sexy, charming ladies' man. But his playboy persona is just an act. Secretly his soul is tortured by a memory too painful to share. Only Delaney seems to see through his facade to the real man underneath. And for the first time in his life, Adrian feels he can begin to open up about his past.
Together, Adrian and Delaney share a passionate love they never expected to find. Yet both still harbor their own secrets. When the dark truth is finally revealed, will it bring them closer together--or tear them apart forever?
Why, why, why?!? *shakes fist at sky* Why did I wait so long to read this book? I'm kicking myself, I can tell you that. I've only read a few books from Ms. Dawn but I can say with certainty that she knows how to bring the feels along with a very compelling story.
*Tissue Alert* You'll need a few for this book.
Delaney and Adrian are two damaged souls linked together by tragedy. When they come into each others' lives, there is this draw between them. They each seem to really see the other - not those things they show everyone else...no, they each see through the masks they wear, even if they don't know all the secrets they're each hiding from one another.
Delaney is a sweet soul. She's optimistic - maybe even idealistic despite all the's seen and endured. She only wants to help everyone heal - to make everything better. She takes on the sins of others, she takes punishment she doesn't deserve, in order to try to piece back together the family she loves. Her good intentions, though, didn't prepare her for the feelings Adrian would incite.
Adrian really broke my heart - even if I could relate to Delaney's struggles on a more personal level. Adrian is experiencing so much pain and grief - he's drowning in it. To stay afloat, he dawns this devil-may-care mask, smokes pot, drinks, loses himself in girls. Until Delaney, the only positive in his life has been his best friend, Colt.
Ms. Dawn deftly conveyed Delaney's and Adrian's emotional states, both before and after they met. I found myself hoping against hope things would work out for them - even though I knew something would have to give. Their attraction and burgeoning feelings for one another - I felt it all, almost viscerally. And the twists Ms. Dawn tossed in threw me for a loop. I was bawling my eyes out several times. However, I was happy with how things wrapped up.
I'm going to be making a concerted effort to read all the other books
I own
from Ms. Dawn. She's quickly moved onto my favorite authors list with her ability to create a moving story with characters I adore, and her ability to evoke a huge range of emotions.