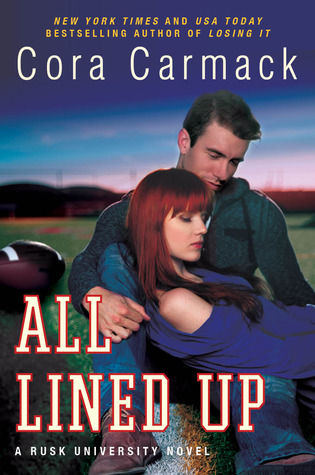 All Lined Up by Cora Carmack
Rusk University #1
Release Date: May 13, 2014
Genre: New Adult, Contemporary Romance
Source: Purchased paperback
Rating: 4 Bookworms
Challenges: #ShelfLove, #TakeControlTBR
Goodreads
Synopsis
In Texas, two things are cherished above all else--football and gossip. My life has always been ruled by both.
Dallas Cole loathes football. That's what happens when you spend your whole childhood coming in second to a sport. College is her time to step out of the bleachers, and put the playing field (and the players) in her past.
But life doesn't always go as planned. As if going to the same college as her football star ex wasn't bad enough, her father, a Texas high school coaching phenom, has decided to make the jump to college ball...as the new head coach at Rusk University. Dallas finds herself in the shadows of her father and football all over again.
Carson McClain is determined to go from second-string quarterback to the starting line-up. He needs the scholarship and the future that football provides. But when a beautiful redhead literally falls into his life, his focus is more than tested. It's obliterated.
Dallas doesn't know Carson is on the team. Carson doesn't know that Dallas is his new coach's daughter.
And neither of them know how to walk away from the attraction they feel.
Being a native, Carmack nailed the religion that is football in Texas! And she did it via relatable, loveable, and engaging characters.
Dallas, "As in the Cowboys. Unfortunately.", is a college freshman who had hopes of escaping her football coach of a dad only to have those hopes dashed when he was offered the head coaching position at Rusk University. Having been raised solely by her emotionally distant dad, who was always busy with his team, left Dallas a bit emotion-phobic. She is a bit awkward (Cora's signature character type) and has no filter. I adored it when she opened her mouth and honesty flowed out. This happened often with Carson. However, this rarely happened when talking with her dad.
I loved Carson from the start. He's just a good guy. He's dedicated, hard-working, and fun. But he's on a mission and doesn't need to be distracted from the goal he's been aiming for forever. And Dallas is definitely a distraction...was from the first time she opened her mouth...and screamed! It was sweet to see him embarrassed to ask for help in his studies as well as see him be protective of Dallas when it came to the football jerks - er, jocks. It was exciting to see things work out in a way that made him happy - something he worked so hard to achieve. He did his best to protect Dallas' heart.
What I liked most about All Lined Up was the character growth Dallas undergoes. Yes, Carson played a part as sort of the impetus but mostly Dallas did some letting go of the past, decided what she needed to do and what she was willing to do to acieve her dreams and still maintain a good relationship with her dad.
I enjoyed this story so much. I even liked meeting the secondary characters, some of whom I look forward to getting to know better in the next books. I hope to see more of Coach Cole, too.
I'm so happy I finally dusted off All Lined Up. I won't wait as long to read the next Rusk novel.