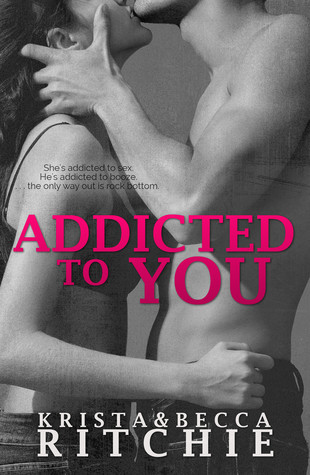 Addicted to You by Krista & Becca Ritchie
Addicted #1
Release Date: May 22, 2014
Genre: New Adult, Contemporary Romance
Source: Purchased on Kindle
Rating: 4.5 Bookworms
Challenges: #OctobeRecFest, #ShelfLove
Recommended by: Tanya @Girl Plus Books
Goodreads
Synopsis
She's addicted to sex. He's addicted to booze...the only way out is rock bottom.
No one would suspect shy Lily Calloway's biggest secret. While everyone is dancing at college bars, Lily stays in the bathroom. To get laid. Her compulsion leads her to one-night stands, steamy hookups and events she shamefully regrets. The only person who knows her secret happens to have one of his own.
Loren Hale's best friend is his bottle of bourbon. Lily comes at a close second. For three years, they've pretended to be in a real relationship, hiding their addictions from their families. They've mastered the art of concealing flasks and random guys that filter in and out of their apartment.
But as they sink beneath the weight of their addictions, they cling harder to their destructive relationship and wonder if a life together, for real, is better than a lie. Strangers and family begin to infiltrate their guarded lives, and with new challenges, they realize they may not just be addicted to alcohol and sex.
Their real vice may be each other.
New Adult Romance recommended for readers 18+ for mature content
I've had Addicted to You hanging around on my Kindle since July of 2013! So long that I can't remember whose review prompted me to one-click. (It's currently *FREE* by the way...you're welcome!) But it was Tanya @Girl Plus Books gushing about her love of this series that prompted me to unearth this gem. Tanya, from the bottom of my heart, thank you for giving me the kick in the pants I needed to get this one read. ;)
Reasons you should meet Lily and Lo:
Unique New Adult Plot
Y'all know I'd gotten tired of the standard NA plot line and had shied away for awhile. Lily and Lo have tempted me back with a plot unlike any I've read before. Oh, there's angst and drama but it's the reasons behind the angst and drama that are rather refreshing. See, Lo is an alcoholic and his reasons for ever having taken that first drink broke my heart. And Lily - she's addicted to sex. And while the reason(s) behind that haven't been fully explored (maybe there isn't a real cause) the repercussions of her addiction, the actions she takes and the suffering she endures because of her addiction also broke my heart.
The Writing
While it's not perfect, the Ritchie's ability to craft such complex characters with such a riveting and compelling story around them is impressive. I'm utterly captivated by Lily and Lo - how they're so entrenched in each others' lives and addictions, how their addictions entangle, and their addiction to one another. I feel so much for them. My heart ached. I cried. Their story is *not* pretty but the journey they've been on and the turn the took in this book...well, I'm hoping for something beautiful to emerge.
The Secondary Cast
While I didn't get a good feel for everyone, the secondary characters added depth to the story and are interesting enough that I'm eager to continue this entire series, including the spinoffs, to see what happens with them. Lily's sisters, Rose in particular, have me especially intrigued.
The Message
Maybe there's not really a message but here's what I took away... people, all people, are flawed but no less deserving of love. Lily and Lo hid their lives, their addictions, for fear of what others would think, when what they needed most was the love and support those others could offer. (of course, Lo's dad is just despicable and no help at all!) When you hit rock bottom and find that something you're unwilling to lose, it's helpful to have your family and friends at your back.
I can't say enough good things about Addicted to You. Again, it's not perfect but is deserving of love nonetheless. ;) I've already downloaded #2, Addicted for Now, and plan to read it next month.