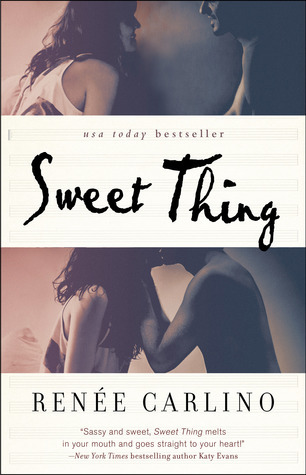 Sweet Thing by Renee Carlino
Sweet Thing #1
Release Date: August 20, 2013
Genre: New Adult, Contemporary Romance
Source: Purchased on Nook
Rating: 4.5 Bookworms
Challenges: #ShelfLove
Recommended by: Teresa @Readers Live a 1000 Lives
Goodreads
Synopsis
"You have to teach your heart and mind how to sing together... then you'll hear the sound of your soul."
Mia Kelly thinks she has it all figured out. She's an Ivy League graduate, a classically trained pianist, and the beloved daughter of a sensible mother and offbeat father. Yet Mia has been stalling since graduation, torn between putting her business degree to use or exploring music, her true love.
When her father unexpectedly dies, she decides to pick up the threads of his life while she figures out her own. Uprooting herself from Ann Arbor to New York City, Mia takes over her father's cafe, a treasured neighborhood institution that plays hot to undiscovered musicians and artists. She's denied herself the thrilling and unpredictable life of a musician, but a chance encounter with Will, a sweet, gorgeous, and charming guitarist, offers her a glimpse of what could be. When Will becomes her friend and then her roommate, she does everything in her power to suppress her passions--for him, for music--but her father's legacy slowly opens her heart to the possibility of something more.
Ah, Sweet Thing. This one's been gathering virtual dust on my nook for quite awhile. Teresa's review pushed me into one-clicking this one. I'm just sorry it took me so long to get to it. This was Carlino's debut and there were things that signified that but the story, by far, outweighed any debut issues. Here are a few of the reasons I loved Sweet Thing and why I'll be reading more from Carlino:
Well-defined characters. Will and Mia are so well fleshed out I feel as though they're my friends. I understood them, their strengths, flaws, vulnerabilities. Even though there were times when they, especially Mia, made me want to bang my head against my nook, I got what made them tick. And I loved them both. They both had some growing to do, again especially Mia, but I enjoyed being on the journey of self-discovery with them.

I'm going to mention secondary characters here as well because they added depth to Will and Mia and to the story overall.

The journey. I mentioned this above but Sweet Thing is a journey of self-discovery and that's something I enjoy reading. What I particularly liked was how Carlino conveyed the impact of having a specific perception and how it can shape your thinking. I also liked how she related the consequences of having that perception shift.

Music! Y'all know I'm a word girl but I'm also a huge fan of words set to music and Carlino's use of music and songs in Sweet Thing was in perfect rhythm with the story.

I met Carlino and she is the sweetest thing in person!
If y'all haven't given Carlino a look or if, like me, you've had Sweet Thing or another of her books on your ereader for awhile, I urge you to grab one or unearth the one you have. I'm giving you my word you won't be disappointed.