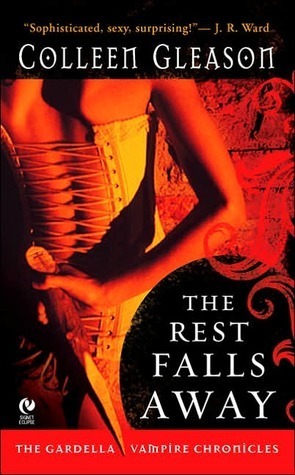 The Rest Falls Away by Colleen Gleason
Release Date: January 2, 2007
Genre: Adult, Historical Paranormal Romance
Rating: 5 Bookworms
Challenges: #ShelfLove
Recommended by: Lorna @Rabid Reads
Goodreads
Synopsis
Beneath the glitter of dazzling nineteenth century London Society lurks a bloodthirsty evil...
Vampires have always lived among them, quietly attacking unsuspecting debutantes and dandified lords as well as hackney drivers and Bond Street milliners. If not for the vampire slayers of the Gardella family, these immortal creatures would have long ago taken control of the world.
In every generation, a Gardella is called to accept the family legacy, and this time, Victoria Gardella Grantworth is chosen, on the eve of her debut, to carry the stake. But as she moves between the crush of ballrooms and dangerous moonlit streets, Victoria's heart is torn between London's most eligible bachelor, the Marquess of Rockley, and her dark, dangerous duty.
And when she comes face-to-face with the most powerful vampire in history, Victoria must ultimately make a choice between duty and love.
Prepare yourselves for a gushing review. I picked up The Rest Falls Away because I was in the mood for vampires and Lorna had recommended this one. It wasn't exactly what I had in mind when I decided vampires but it absolutely hit the sweet spot!
Gleason delivered a well-crafted introduction to the Gardella world in Regency England. Her conveyance of the life of a daughter's duty, life among the ton, etc., was very well done. Her creation of a vampire mythos and a class of people dedicated to eradicating the world of the evil of vampires was fascinating. The characters, both primary and secondary, were robust and compelling and Gleason didn't shy away from making any of them possibly unsavory, morally questionable, and the like. I found each of the characters to be interesting in their own way and they all added something integral to the story.
I'd be lying if I said I didn't draw comparisons between Victoria and Buffy. *wink* That this vampire slayer lives in the 1800's only added to my enchantment. Max and Aunt Eustacia, the Marquess, Sebastian, even Verbena, all made for a colorful cast that I'm completely invested in.
The ending...GAH! That was gut-wrenching but then I was also torn in my feelings - which I suppose make it all the more gut-wrenching. But it also made it very difficult to turn off my kindle and move on to my next read considering I have the boxset and book #2 was sitting there staring at me.
Honestly, I could go on and on about all the reasons The Rest Falls Away tripped my trigger. Bottom line though: It did. In a big way. I can't wait to continue. Thanks, Lorna!