My To-Be Read List is a meme hosted by Michelle @Because Reading. I think it's a fabulous idea because it gets y'all in the game and it helps me knock off some of the many, many books on my TBR list. You're more than welcome to join in the fun! I've included the basic rules below but you can click on the graphic above to hop over to Michelle's site where you can find all the details.
Here's how it works:
On the first Saturday of each month, I will make a post with three books from my TBR List (these books can be already on your ereader or bookshelf OR books you might want to purchase) and add your link on the linky that will be provided on Michelle's post. Y'ALL will help me choose which book I will read next. The following Saturday, I will announce which book won. Then the last Saturday of the month, I'll post my review.
Fun, right?!?
As you may or may not know, I've dedicated the months of November and December to doing series catch up - Traveling to the Terminus. This month's choices are all paranormal romance in theme. I do lack more than one to complete these series but getting one read puts me that much closer, right? Here are the choices:
Twist
Mageri Series #2
Synopsis
Months after moving to the mysterious city of Cognito, Silver is developing her gifts as a Mage and learning how to live under new laws. She is forced to give up her old life and live in secret among the humans. There is finally hope of leading an ordinary life...
Until Logan Cross walks into it.
Their chance meeting leads her close to discovering the identity of the nameless Mage who once stole her light and discovered the unique power she possesses. That knowledge poses an unimaginable threat to Silver, fueling the search to find out who he is before he finds her.
Lives are at stake. Truths are revealed. And an unexpected passion ignites.
"An outspoken woman makes the world a livable place. You have fire in you, and I would never put that out."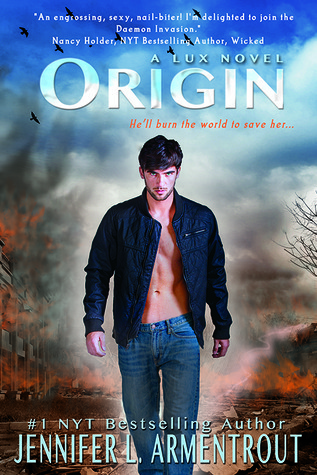 Origin
Lux Series #4
Synopsis
Daemon will do anything to get Katy back.
After the successful but disastrous raid on Mount Weather, he's facing the impossible. Katy is gone. Taken. Everything becomes about finding her. Taking out anyone who stands in his way? Done. Burning down the whole world to save her? Gladly. Exposing his alien race to the world? With pleasure.
All Katy can do is survive.
Surrounded by enemies, the only way she can come out of this is to adapt. After all, there are sides of Daedalus that don't seem entirely crazy, but the group's goals are frightening and the truths they speak even more disturbing. Who are the real bad guys? Daedalus? Mankind? Or the Luxen?
Together, they can face anything.
But the most dangerous foe has been there all along, and when the truths are exposed and the lies come crumbling down, which side will Daemon and Katy be standing on?
And will they even be together?
Edge of Oblivion
Night Prowler Series #2
Synopsis
There exists a world beyond our own. It is a world of ancient magic and well-guarded secrets, a world of strict laws and harsh punishments for those who betray them, a world inhabited by the Ikati, a race of gifted people who are so much more than they first appear. Brought together by fate in this world of danger and beauty, two people with dark pasts will meet.
Morgan is beautiful, smart, sexy...and about to die. Convicted of treason against her shape-shifting kin, she is given one last chance at redemption; discover the hidden lair of the enemy intent on destroying every one of her kind, or forfeit her life.
Xander is ruthless, heartless, cold-blooded...and assigned to kill her if she fails in her task. Expecting to feel nothing but contempt for the traitor under his watch, the assassin accompanies Morgan on her search, but as the two race through the heart of Italy while the clock winds down to zero hour, he finds himself drawn into a dangerous web of desire as powerful as it is forbidden. Their passion will test everything they believe in, and endanger the future of the tribe itself.
Okay, now vote!
Create your own user feedback survey