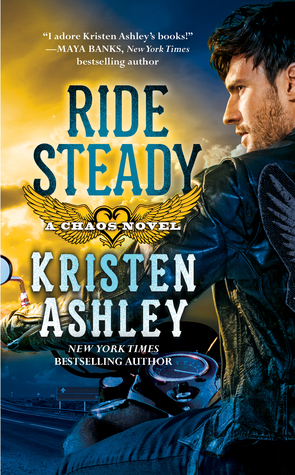 Ride Steady by Kristen Ashley
Chaos #3
Release Date: June 30, 2015
Genre: Adult, Contemporary Romance
Source: Purchased ebook on Nook
Rating: 5 Bookworms
Goodreads
Synopsis
The ride of her life...
Once upon a time, Carissa Teodoro believed in happy endings. Money, marriage, motherhood: everything came easy---until she woke up to the ugly truth about her Prince Charming. Now a struggling, single mom and stranded by a flat tire, Carissa's pondering her mistakes when a vaguely familiar knight rides to her rescue on a ton of horsepower.
Climb on and hold tight...
In high school, Carson Steele was a bad boy loner who put Carissa on a pedestal where she stayed for beyond his reach. Today, he's the hard-bodied biker known only as Joker, and from the way Carissa's acting, it's clear she's falling fast. While catching her is irresistible, knowing what to do with her is a different story. A good girl like Carissa is the least likely fit with the Chaos Motorcycle Club. Too bad holding back is so damned hard. Now, as Joker's secrets are revealed and an outside threat endangers the club, Joker must decide whether to ride steady with Carissa---or ride away forever...
*Note: My pal Robyn and I *did* buddy-read this over the summer. We didn't do so well with the chatting via email, thus no Rock Chick Chat. But we'll get back to those, I promise! :) *
I don't know how she does it but Kristen Ashley keeps getting better and better. And when you start out as high as she did, in my opinion, that's a feat!
"To the world you may be one person but to one person you may be the world."
I was reminded of this quote often while reading Ride Steady. And it's a quote everyone should take to heart. Carson 'Joker' Steele had nothing at home but a man who beat him down, in every way imaginable, his whole life. But he did have a few people in his corner - who looked out for him as best they could, encouraged him and loved him. Those people put him on a path...
Carissa Teodoro had a good life. But life continually tried to knock her down. She lost people she loved, had someone she loved beat her down. But those knocks put her on a path...
Joker's and Carissa's paths intersected during rush hour on I-25. And all the beat downs, all the people who'd cared, all the friends and brothers that did care, made this intersection of paths life-changing. And these paths became one path - that they could choose to travel together. They'd have to jump some hurdles first though.
I thoroughly enjoyed this installment in the Chaos series. KA continues to bring the feels, running the gamut. I adore seeing the dynamics between this brotherhood of men and the women who stand by their sides. I look forward to more Chaos. ;)