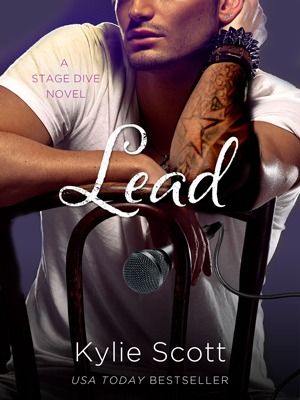 Lead by Kylie Scott
Stage Dive #3
Narrated by: Andi Arndt
Release Date: November 25, 2014
Genre: New Adult, Contemporary Romance
Source: Audible
Rating: 4.5 Bookworms
Goodreads
Synopsis
As the lead singer of Stage Dive, Jimmy is used to getting whatever he wants, whenever he wants it, whether it's booze, drugs, or women. However, when a PR disaster serves as a wake-up call about his life and lands him in rehab, he finds himself with Lena, a new assistant to keep him out of trouble.
Lena's not willing to take any crap from the sexy rocker and is determined to keep their relationship completely professional, despite their sizzling chemistry. But when Jimmy pushes her too far and Lena leaves, he realizes that he may just have lost the best thing that ever happened to him.
Lead really packed an emotional punch. Dealing with addiction added this whole other layer of complexity to the story. I know have a new appreciation for the bad boy of Stage Dive.
Jimmy knows a thing or two about partying. He's always been the one to fully embrace the rock-n-roll lifestyle of booze, drugs, and girls. A trip to rehab has changed his ways but the record label insists on a sobriety partner to ensure the new habits stick.
Enter Lena. She has no experience wit counseling or even addiction but Jimmy doesn't mind her being around so it's an arrangement that works. Until feelings develop between them.
I can't imagine the difficulties that being a recovering addict would bring to a relationship. Add to that the emotional scars left from an absent father and an addict mother who repeatedly told you you were unlovable. Ms. Scott conveyed all that and more through Jimmy, making him the most complex and dynamic guy of Stage Dive, in my opinion. In Lena, she created this young woman who cared so much. One who'd been hurt buy love before - in a reprehensible way. A girl who'd been told she was hard and difficult to love but who had so much love to give. I feel for these two characters - hard. Their prickly banter, their inability to or desire to not deal with their feelings. Their unmistakable chemistry and the depth of emotion between them.
Lead had a little different feel to it than Lick or Play. That's not to say Ms. Scott didn't evoke emotions with David and Ev's or Mal and Anne's stories, because she definitely did. But Lead was different. Maybe it was that we were able to delve deeper into Jimmy through Lena. I'm not sure. I do know I loved their story.
Andi Arndt continues to wow me with her voices and her ability to convey the emotion of each scene.
I've already begun Deep and one thing is for sure...I'm going to miss these guys and girls once I'm done.